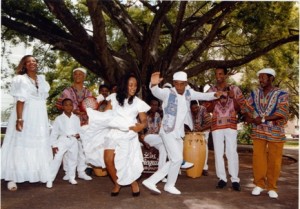 The legendary Los Muñequitos de Matanzas, Cuba's premier folkloric ensemble, returns to New York in May. The May 5-7 program mark the troupe's first appearances in New York since 2002, following a nearly decade-long ban of Cuban artists coming to the United States.
Composed of masters of Afro-Cuban music and dance, Los Muñequitos de Matanzas is renowned for its fiery rumbas, captivating vocals, dynamic drumming and sacred rituals, and recognized throughout the world as the most vital ensemble sustaining and popularizing the African roots of Cuban culture.
The 16-member troupe's evening program, Tambor en Fuego en Homenage a los Ancestros/Drum of Fire in Tribute to the Ancestors, features new works, tributes to its famed members, and songs from its critically acclaimed recordings, transporting audiences to the streets of Matanzas and the soul of Cuba.
The program includes rumba – yambú, columbia and guaguancó – as well as ritual rhythms, songs and dances from the Afro-Cuban folkloric heritage: Yoruba, Brikamo, Longo, Arará, and Iyesá. The family program provides a lively introduction to Cuban culture, African roots, rumbas and rituals. These concerts are part of the ¡Sí Cuba! Festival, a New York celebration of Cuban arts & culture, March–June 2011.
Founded in 1952, Los Muñequitos de Matanzas spans three generations of an extended family of musicians, singers and dancers. Hailing from Matanzas, the most vital African city in the Western Hemisphere, Los Muñequitos has been a seminal force in the development of rumba and other forms of Afro-Cuban dance and percussion.
The troupe's dynamic performances enable audiences to witness the vibrant culture of the African Diaspora intrinsic to Cuba's living legacy. Since beginning its international career in 1989 with performances in England, it has toured extensively in Canada, Brazil, Europe, and the US.
It first visited the United States in a highly successful tour in 1992, organized by Dance Theater Workshop's Suitcase Fund, and returned for four additional tours in 1994, 1998, 1999 and 2002, organized by MAPP International Productions.
The group has released numerous recordings, including the Latin Grammy award-winning album La Rumba Soy Yo (2001) and the recent Rumba de Corazón, Tambor de Fuego and De Palo Pa'rumba, which were nominated for the Cubadicso Prize and the Latin Grammy.
The group has shared the stage with such prominent figures as Celia Cruz, Omara Portuondo, Tito Puente, Chucho Valdes, Herbie Hancock, Ruben Blades, and Gilberto Gil.
Recordings available:
3 evening performances: Thurs, May 5, 2011 – Sat, May 7, 2011 8:00 PM
$38 in advance / $43 at door
+ family performance: Sat, May 7, 2011 11:00 AM
$25 adults, $15 children
Peter Norton Symphony Space
2537 Broadway at 95th Street
New York City
Tickets/info: WMI (212) 545-7536 http://worldmusicinstitute.org
Box office (212) 864-5400 http://symphonyspace.org
Author:
World Music Central News Department
World music news from the editors at World Music Central