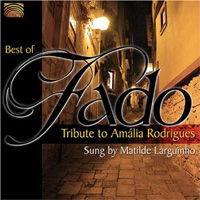 Matilde Larguinho
Best of Fado: Tribute to Amalia Rodrigues (ARC Music)
This is a compilation of the most beautiful songs of Amália Rodrigues, known as the "Rainha do Fado" (Queen of Fado). The tracks of this melancholic soulful Portuguese genre are sung by Matilde Larguinho, accompanied by António Carvalho (guitarra portuguesa – Portuguese lute) and Alfrêdo Pena (viola – guitar).
The booklet includes the original Portuguese lyrics and descriptions of the songs in English. Of the 14 tracks, our picks include the lilting O Meu Primeiro Amor and Carmencita.
The album ends in fine style with Uma Casa Portuguesa and Maria da Cruz. In sum, a good introduction to fado with contemporary interpretations.
Buy the album or MP3 downloads:
Author:
Madanmohan Rao
Madanmohan Rao is an author and media consultant from Bangalore, and global correspondent for world music and jazz for World Music Central and Jazzuality. He has written over 15 books on media, management and culture, and is research director for YourStory Media. Madan was formerly World Music Editor at Rave magazine and RJ at WorldSpace, and can be followed on Twitter at @MadanRao.