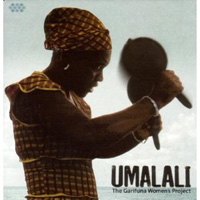 Umalali, the Garifuna Women's Project, will perform May 4, 2011. The concert is presented by Crossroads Music and will take place at 7:30 pm at 801 South 48th Street in Philadelphia. A short program for children under 12 will begin at 6:00 pm.
Umalali, the Garifuna word for "voice," is a musical ensemble from Belize that gives extraordinary testimony to the resilience of a unique culture and particularly its women. In 1635, a Dutch ship carrying Africans to the New World to be sold into slavery was wrecked off the coast of St. Vincent in the eastern Caribbean. These Africans were absorbed into the indigenous Carib population, and in the process created a unique culture that four centuries later was recognized by UNESCO as a "Masterpiece of Oral and Intangible Heritage of Humanity."
Fast forward to 1997. A young record producer in Belize observed that in the Garifuna community, it was the women who carried on the teaching of the language, the women who knew more songs than the men, and the women who wrote more songs than the men. Along with his musical companion the late Andy Palacio, record producer Ivan Duran determined to seek out and record the best female singers they could find.
Women singers of all ages from diverse Garifuna communities in Belize, Honduras, and Guatemala, many of whom had never recorded before, participated in groundbreaking recording sessions in homes, seaside shacks, festivals and other settings with Andy Palacio and members of the Garifuna Collective.The result is a recording that captures the beauty and power of Garifuna female expression.
Umalali is a moving and inspirational album that pays tribute to the rich heritage carried in the voices of Garifuna women. Their powerful voices and call-and-response format draw the listener in to be captivated by the engaging rhythms and wonderful sounds of the Garifuna language.
Crossroads Music is Philadelphia's only organization dedicated to organizing public performances by accomplished musicians with roots in cultures from around the world. Its concerts, workshops, master classes, lectures, and other activities educate the public by providing a welcoming and affordable environment for music-lovers of all ages and backgrounds to explore seldom-heard sounds and engage in intercultural dialogue. They also work closely with other community and cultural organizations that share our goals.
Advance tickets and more information are available at crossroadsconcerts.org or 215-729-1028.
Buy the album:
Author:
World Music Central News Department
World music news from the editors at World Music Central