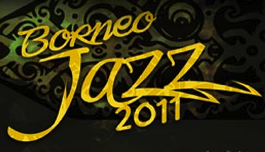 The Miri International Jazz Festival, one of Asia's premier boutique jazz festivals which blends world music with jazz, is now re-branded as Borneo Jazz and the line-up this year features terrific emerging and established artistes. It will be held at the same venue as the previous festivals: ParkCity Everly Hotel in the city of Miri, Sarawak, eastern Malaysia (May 12-15).
The festival's artistic director is Randy Raine Reusch from Canada, who is also the curator of the outstanding Sarawak Rainforest World Music Festival. I caught the Miri festivals in 2009 and 2010, featuring artistes such as John Kaizan from Japan (Indo-Japanese fusion), Rumba Calzada from Canada (Latin jazz), and Simak Dialog from Indonesia (Indonesian-jazz fusion). See my 2010 article at music.techsparks.com and earlier pics at jazzborneo.com.
This year's line-up also includes a nice blend of world music and jazz, such as Cunha & Piper (Fernanda Cunha from Brazil and Ray Piper from Australia, charting new territory in post-bossa groove), and SIU2 (with Hong Kong's Ng Cheuk-yin blending jazz with traditional Chinese instruments: sheng, sanxien and zheng).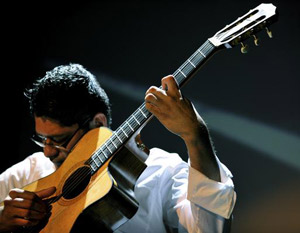 I interviewed one of the artistes, Dhruv Ghanekar, from India, in preparation for the festival next month. Dhruv is a composer, producer and guitar player from Mumbai who has performed and collaborated with a range of artistes including Richard Bona, Zakir Hussein, Trilok Gurtu, Raul Midon, Etienne M'bappe, Ranjit Barot and Louiz Banks.
An alumnus of the Berkelee School of Music, he is one of the founding partners of Blue Frog Production, a music club as well as studio and production house. His 2009 album 'Distance' blends jazz with contemporary Indian roots and rock. His next album explores African sound.
The album 'Distance' features Dhruv on guitar and vocals, Carl Clements on saxophone and flute, Sheldon D'Silva on bass, Lindsay D'Mello on drums and Abhijit Nilani on keyboards. The tracks 'Conscience' and 'Sundays' are a nice blend of Carnatic and Hindustani Indian flute (by Ashwin), tabla (Satyajeet Talvalkar) and vocals (Nandini Srikar) with ambient groove.
"I grew up listening to pop music from the 70s and 80s whilst studying Indian classical vocals. In my early teens I gradually got into more progressive rock and a plethora of instrumental guitar music. Soon after that I was introduced to Pat Metheny, Chick Corea and Scott Henderson and that totally changed my concept of music," Dhruv explains.
"For the past 5 years or so, I've been listening heavily to a lot of music from Africa and some of that sound is probably rubbed off on me. So my next album will have an African scent," he promises.
Dhruv has played outside India in a number of venues as well. "It is always interesting playing outside your home country, people react to the music without any preconceived notions," says Dhruv. Recently he played at the Kathmandu Jazz Fest and before that Java Jazz Fest in Jakarta.
We look forward to Dhruv's performance in Borneo next month, along with the other international jazz and world music artistes!
Author:
Madanmohan Rao
Madanmohan Rao is an author and media consultant from Bangalore, and global correspondent for world music and jazz for World Music Central and Jazzuality. He has written over 15 books on media, management and culture, and is research director for YourStory Media. Madan was formerly World Music Editor at Rave magazine and RJ at WorldSpace, and can be followed on Twitter at @MadanRao.