Acclaimed flautist, bansuri player and composer, Teymour Housego will present his new album, Haunting Bazaar, on Friday 22nd April at The Green Note, 106 Parkway, London NW 1 7AN.
Teymour Housego will perform with his quartet, featuring co-composer French guitarist vocalist Yves Mensil. The quartet also comprises Kumar Ragunathan – violin and vocals and percussionist Renu Hossain, great musicians in their own right as well.
The Green Note in Camden is well known for its intimate setting for magical musical events and Teymour Housego has previously attracted full and appreciative houses.
Teymour Housego (named for 14th Century warrior Timur the Lame) has variously collaborated with Jethro Tull, Nitan Sawhney, Rishi Rich, Niran Chag, Pritti Paintal and …..Michael Jackson, amongst others!
Haunting Bazaar finds Housego in both contemplative and playful modes and his flute ignites classical, fusion and subtle beats with the fluency of a musician at ease anywhere.
The album reflects sounds Housego heard growing up in India and his life between London and Paris, tempered by his considerable global music experiences. Teymour said "I want to explore the wealth of musical traditions and styles the world has to offer and find ways of combining my background in Indian music and Jazz with other musical styles".
Haunting Bazaar is both classical and fused and draws the listener into a richly textured journey in a variety of languages.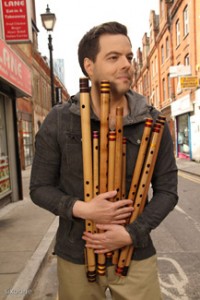 Teymour Housego lived in Paris and Delhi as a child and studied for his BA at the New Delhi Ghanharva Mahavidyala with Shri Prakesh Saxena and now lives in London. Alongside work with the architects of UK contemporary sounds, Teymour has played with many Indian and Pakistani classical masters such as Ustad Irat Khan, Usted Fati Ali Khan and Ustad Salamat and his music has featured in several films, including the IMAX 'Sea Monsters'.
He co-founded flamenco fusion group Alcazaba and released a well-received album, Alcazaba, in 2009 and he's played at some of the world's most prestigious venues and festivals including QEH, Lincoln Center and the Royal Albert Hall. The quartet said they are looking forward to playing to the very musical Green Note audience.
The Teymour Housego quartet concert , previewing his Haunting Bazaar album, is on Friday 22nd April at 8:00 pm at The Green Note, 106 Parkway, London NW1 7AN and tickets are priced at £10 from www.greennote.co.uk or 020 7485 9899.
Author:
World Music Central News Department
World music news from the editors at World Music Central