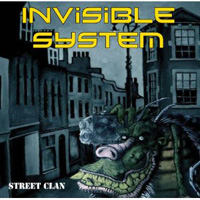 Invisible System
Street Clan (Harper Diabate Records, 2011)
Following up on their Songlines World Music Award Best Newcomer nominated CD Punt (Made in Ethopia), Invisible System, headed up by Dan Harper, is back with their sophomore recording Street Clan. Recorded in Ethiopia, Mali and the United Kingdom on Mr. Harper's off time from his gig as an aid worker, Street Clan is another fantastical ride with guest appearances by Portishead's Adrian Utley, Skip McDonald, Eat Static and The Ozirc Tentacles and percussionist Stuart Fisher. Delving into a razor-sharp otherworldliness, Invisible System tumbles headlong into an edgy course filled with plenty of twists and turns.
Packed with 17 tracks, Street Clan is a whopping crossbreed of genres, covering the map from dance to dub to reggae to rock to post-punk and to psychedelia. With such a daunting cornucopia of sounds and divergent directions, I wonder if perhaps it wouldn't have been wiser to break up the tracks into two different recordings.
Personally, I found some of the post-punk, thrash tracks a little discordant with the overall sound. It's one of those things where you have an idea of where the artist is going, but you're not sure you want to follow. Listeners shouldn't be discouraged because there are some excellent tracks on Street Clan.
Invisible System's vocalist Zewditu Tadesse hits the mark on opening track "Tizita" against an eerie background of electronic, shadowy guitar and clever percussion. Equally good is the track "Ambassel" with Mimi's Azmari traditional band and backed by some slick guitar licks. Dipping into the edgy, "Bone Flaps" is all guitar fire, drums, bass and Zewditu's vocals in a sort of African punk homage.
Standout gems include the trippy reggae tinged "Woman's Love," the electronica charged "Live Up to Love" that screams trance joy and the hypnotic "Oumabetty" with its mix of rhythms, mournful sax lines and liquid vocals. "Teenage Lion" gets a jacked up treatment by Invisible System's vocalists Zewditu Tadesse and the husky voiced Dennis Wint against a sway-backed reggae beat that pulses with sheer goodness.
Street Clan is akin some wild and wonderful underground cave club where the musical colors keep shifting and you just can't help jumping into the very center.
Buy the album:
Author:
TJ Nelson
TJ Nelson is a regular CD reviewer and editor at World Music Central. She is also a fiction writer. Check out her latest book, Chasing Athena's Shadow.
Set in Pineboro, North Carolina, Chasing Athena's Shadow follows the adventures of Grace, an adult literacy teacher, as she seeks to solve a long forgotten family mystery. Her charmingly dysfunctional family is of little help in her quest. Along with her best friends, an attractive Mexican teacher and an amiable gay chef, Grace must find the one fading memory that holds the key to why Grace's great-grandmother, Athena, shot her husband on the courthouse steps in 1931.
Traversing the line between the Old South and New South, Grace will have to dig into the past to uncover Athena's true crime.