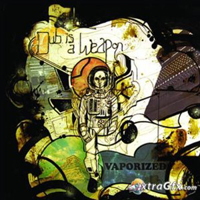 Dub is a Weapon
Vaporized (Harmonized HAR-038, 2011)
After being knocked out by some of this band's online videos, it's a joy to have a CD of theirs find its way to my front door. Dub is a Weapon is the fruition of an idea by Dave Hahn, a New York City guitarist and sound manipulator (or "dub organizer," if you will) who's played in such Jamaican-flavored outfits as the Slackers and David Hillyard and the Rocksteady 7. It was his vision to form a group that could play live dub (the remix offshoot of reggae) as deep and mind-bending as the studio creations of Jamaican masters like King Tubby. Sure, Vaporized is a studio recording, but it's one done with the entire band playing together and Hahn's dub effects rendered on the spot.
The results are dazzling. Let's be clear, though- this is not just a copping of the classic Jamaican dub sound. The tempos tend to be a little faster than most reggae riddims, and there is an abundance of rockish lead guitar that further stretches the boundaries without breaking them.
Hahn's guitar often shadows or trades melodic jabs with the tenor saxophone of Maria Eisen as hard-chopping grooves blaze away underneath, rhythm guitar and keyboards assail the offbeats, shots of echo and other brain-altering sounds are tweaked in and out and drums and bass seal it airtight. Deeper roots are provided by veteran Jamaican percussionist Larry McDonald, whose array of African, Caribbean, Latin and Brazilian accents punctuate perfectly.
The nine lengthy tracks are instrumentals save for "Forwarding Home" a Rasta-centric bit of reasoning nicely voiced by Rob Symeonn. There are numerous ways I could attempt to be clever in describing this sonic weaponry: that it's dynamite, it's fully loaded, it's of a very high caliber, it's killer, and so on. All would be applicable. But none would take the place of actually hearing it, something any lover of reggae and dub needs to do.
Author:
Tom Orr
Tom Orr is a California-based writer whose talent and mental stability are of an equally questionable nature. His hobbies include ignoring trends, striking dramatic poses in front of his ever-tolerant wife and watching helplessly as his kids surpass him in all desirable traits.