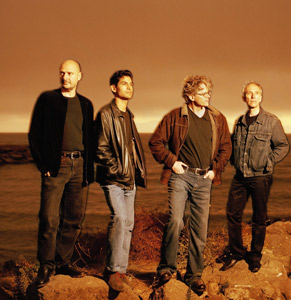 In May 2011, the Kronos Quartet will bring Glasgow's Concert Halls' 2010/2011 season to a spectacular finale with a four-day mini-festival of contemporary and world music – Kronos in Glasgow.
From 12th – 15th May, the Kronos Quartet and some very special guest collaborators take part in a long weekend of events at the Glasgow Royal Concert Hall, City Halls and Old Fruitmarket, with a world exclusive recital at Hamilton Mausoleum. Guests include Wu Man, Alim Qasimov Ensemble, Ritva Koistinen, Tanya Tagaq, Matmos, Catriona McKay and Chris Stout, Matmos, Dr Craig Woodson, National Youth Choir of Scotland, and Christopher Bell.
Kronos Quartet are renowned across the globe for their inventiveness, creativity and for their exploration of different musical genres, and an array of international collaborators will join this ground-breaking ensemble in Glasgow to celebrate the musical traditions of their homelands.
In a spectacular world music triple bill in Glasgow's atmospheric Old Fruitmarket, the Quartet appear alongside Finnish musician Ritva Koistinen, one of the leading players of the kantele – a traditional plucked string instrument similar to a zither. They will perform traditional Azerbaijani repertoire with the Azerbaijani musician and Mugham singer Alim Qasimov and his ensemble, before taking to the stage with the Inuit throat singer, Tanya Tagaq, for a performance of Tundra Songs, Derek Charke's mesmerizing Arctic soundscape.
The internationally renowned pipa (Chinese lute) player Wu Man – who has worked with everyone from Yo-Yo Ma to Cho-liang Lin – will perform Terry Riley's The Cusp of Magic with the Quartet. Other collaborators include the Scottish folk duo Chris Stout and Catriona McKay, the National Youth Choir of Scotland and Dr. Craig Woodson, who hosts a special family concert with an "around the world" theme.
Other highlights over the weekend include four Scottish premieres, including one of the first performances of Steve Reich's brand new work WTC 9/11, which was written especially for the Quartet, and a performance of Jon Rose's extraordinary Music from 4 Fences, for which Kronos swap their strings for a specially constructed barbed wire fence.
The Baltimore-based experimental electronic duo Matmos have been hand-picked by Kronos for a late night show in the Old Fruitmarket with Tanya Tagaq, and the Quartet appear in a very special, world exclusive event in the remarkable Roman-style domed Hamilton Mausoleum.
The mausoleum's high stone vault gives the building one the longest lasting echoes in any man-made structure in the world, and Kronos and some of their collaborators will explore the astonishing acoustic and reverb time of this atmospheric venue with a series of short sets.
12th – 15th May 2011
Glasgow's Concert Halls and Hamilton Mausoleum
Tickets are available from 0141 353 8000 or online at www.glasgowconcerthalls.com
Author:
World Music Central News Department
World music news from the editors at World Music Central