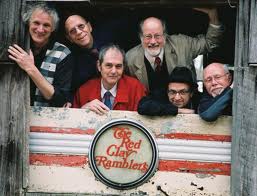 Bald Head Island in North Carolina will present the Bald Head Island Americana Music Weekend on Memorial Day weekend, featuring bluegrass, folk and jazz music, storytelling, gospel singing and great food all set in North Carolina's only car-free island.
The highlight of the weekend is the Americana Music Festival on Saturday, May 28 from Noon to 8 p.m. at the Harbourside Pavilion. Musical acts include Catesby Jones, Jeanne Jolly, Susan Savia, Big Al & John Fonvielle and the Red Clay Ramblers.
The event will also feature kids' games and crafts, a baking contest and bake sale, and family hootenanny. Meal and snack concessions will be available for purchase. Tickets are $10 per person (ferry passage and parking not included). A portion of the proceeds from this event will benefit local wounded soldiers. Active duty military and veterans receive free admission at the door by showing a military ID.
Other Americana Music Weekend activities include a songwriting workshop, art display and demonstrations by Americana artists, a Memorial Day themed ghost walk and a custom yacht showcase sponsored by The BrandBoat.
For more information and a list of Americana Music Weekend activities, visit www.BHIAmericanaWeekend.com or call Bald Head Island Limited at 910-269-2790.
Bald Head Island is located just off the coast of Southport, North Carolina With no bridge connecting the island to the mainland, visitors take a 20-minute ferry ride across the Cape Fear. Because there are no cars allowed, the favored method of on-island transport is electric cart, bicycle, or walking.
Bald Head Island has been thoughtfully developed and retains much of its wild beauty. Of the island's 12,000 acres, 10,000 have been permanently preserved and will never be developed.
To learn more about Bald Head Island, visit http://www.baldheadisland.com.
Author:
World Music Central News Department
World music news from the editors at World Music Central