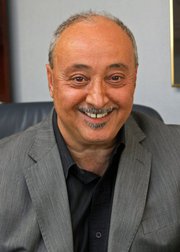 Ismael Ahmed is returning to radio, rejoining WDET-FM 101.9, Detroit's National Public Radio affiliate. Ahmed's new WDET program, THIS ISLAND EARTH, can be heard 5-7 p.m. Saturdays on the air at 101.9 FM and online at www.wdet.org. The program premiered on Saturday, April 2, 2011. Its title was inspired by both the classic 1955 science fiction film of the same name and Ahmed's personal interpretation of the phrase.
"I have always loved music of all kinds. In fact, my father and mother moved us from New York to Detroit to open an Egyptian record store in Greektown," Ahmed says.
"When that went bust, we moved to West Vernor to open a china shop, but Arabic music always wafted out of the store. Right across the street was a rock and roll confectionery that I wished I was old enough to hang out in."
"Even then, I always wondered why music is so segregated – blues here, Indian music there, et cetera. This Island Earth is a free-form world music program. No music is taboo. You hear Calypso Rose and State of Bengal back to back or Amp Fiddler next to Nahawa Doumbia. It is all about great music, no matter when or where it was birthed."
A longtime resident of Dearborn who recently relocated to Farmington Hills, Ismael Ahmed is currently associate provost for integrated learning and community partnerships at the University of Michigan – Dearborn. He is a member of the executive committee of the Arab American National Museum's (AANM) National Advisory Board, among many other nonprofit affiliations.
He is a founder of the AANM, located in Dearborn, which marks its 6th anniversary in May 2011; the beloved annual diversity-themed free music festival Concert of Colors, now in its 19th year in downtown Detroit; and ACCESS, the Dearborn-based nonprofit human services agency celebrating its 40th anniversary this month. Ahmed was executive director of ACCESS from 1982 until 2007, when he was appointed director of the Michigan Department of Human Services by Gov. Jennifer Granholm.
In addition to the two aforementioned programs on WDET, Ahmed's broadcasting career includes a stint at WDTR-FM, hosting "World Mix" with Kim Hunter, and a brief time at WRCJ-FM, where Ahmed hosted "Earth Island Radio." Altogether, Ahmed's radio career spans nearly 20 years; it has been almost 10 years since he has been on the air.
"I am amazed by Ismael's ability to mix a wide variety of global sounds and rhythms into a program that captures your imagination and makes you want to dance at the same time," says WDET Program Director Ron Jones. "WDET's weekends are all about great music. This Island Earth is a great addition for our listeners." WDET is a community service of Wayne State University.
Ahmed says the program will do more than offer audiences a weekly selection of well-curated music unlikely to be heard on other radio stations.
"I also want to shine a light on the great cultural and community events taking place in metro Detroit, especially in our ethnic communities. It's a passport to destinations including the Arab American National Museum or the yearly Filipino Picnic or other, lesser-promoted performances. This Island Earth is about taking us all to a higher place, a place where we are all brothers and sisters."
Ahmed's close friend and Concert of Colors collaborator, super-producer and Detroit native Don Was, expects the new program to exceed all expectations, even Ahmed's own!
"In music as in politics, Ismael Ahmed has been a bold promoter of the brave and the harmonious," Was says.
"His enthusiasm and impeccable taste combine for a show that you will NEVER want to miss! If Ismael's program was broadcast 24 hours a day all over the world, peace would reign on Earth and John Coltrane would be the Chief Justice of the Love Supreme Court!"
Author:
World Music Central News Department
World music news from the editors at World Music Central