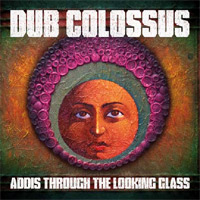 Dub Colossus, the global music collective created by guitarist Nick Page (TransGlobal Underground, Temple of Sound, Syriana), will be releasing its new album titled Addis Through The Looking Glass on April 26th 2011. The album will be released in digital format in the United States on April 26th, simultaneous with the UK street date. The physical release will follow a few weeks later.
Dub Colossus combines dub, reggae, Seventies Ethiojazz and traditional tunes. When their first album, A Town Called Addis, was released back in 2008 it was hailed as one of the most inventive fusion albums of the year, with its blend of contemporary and traditional Ethiopian styles, jazz and dub reggae.
A Town Called Addis received rave reviews, spent several months at No 1 in the European World Music charts, and was nominated for a Songlines Award.
Dub Colossus are back with a lengthy, even more varied and sophisticated album that moves the experiment on – with the Ethiopians predictably playing a greater role in the proceedings. It's still an experimental fusion set, not a straightforward recording of Ethiopian songs, but the successes of the past two years have led to growing trust and confidence in the band.
The result is an album that constantly changes direction, featuring atmospheric, wide-screen, drifting jazz-dub instrumentals, breathy love songs, and bluesy traditional pieces. Then there's reggae, from the jazzy, brass-backed 'Dub Will Tear Us Apart' to the gently sturdy 'Wehgene', and there are two Ethiopian-flavoured re-workings of great reggae classics. A key track is 'Althea' and Donna's 'Uptown Top Ranking', a Number One hit in the UK in 1978, given an Ethio makeover.
Recordings available:
Author:
World Music Central News Department
World music news from the editors at World Music Central