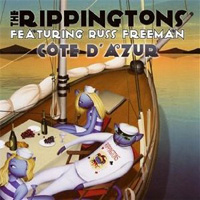 The Rippingtons
Cote D'Azur (Peak Records, 2011)
The great challenge for the exponents of "smooth jazz" is to manage to be different while maintaining the core of sound to avoid alienating their followers. Nowadays, the "smooth jazz" label as a genre has been losing ground. Radio stations and listeners are leaning to more R&B sounds and more vocals. The trend now should to be more creative and original. This is the challenge.
Over the past quarter of century, guitarist and keyboardist Russ Freeman and The Rippingtons have a built a trademarked sound and colorful album covers. In one way or another, they embody the Smooth jazz sound.
There is nothing ground-breaking in this album. However, there are some great moments. Passage To Marseilles, for instance, is the most intriguing track, uptempo with solid North-African/Arab-Spanish grooves with a memorable Indian tabla sound. On the other hand, there is a Brazilian touch of a bossa nova in the enjoyable "Postcard from Cannes".
Other tracks are easily forgettable with the predictable weaving of bass and keyboard and the solid craftsmanship sound. Cote D'Azur doesn't carry a distinctive sound and it sounds, well, like The Rippingtons. After recording 18 albums, you might think it is time to take a chance.