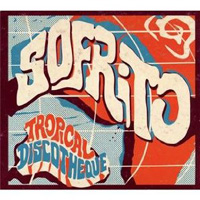 Sofrito
Tropical Discotheque (Strut STRUTO70CD, 2011)
The DJ team of Hugo Mendez, Frankie Francis and The Mighty Crime Minister, collectively known as Sofrito, can reportedly pack a dance floor just about anywhere in the world with the music they bring to the party, and from their London home base they've brought the good times to locales all across Europe and as far flung as Brooklyn. Tropical Discotheque is a sampling of tunes that'll have you wanting to towel off your CD player after every track.
Latin, African and Caribbean tracks provide differing levels of heat and humidity, including some galloping Colombian cumbia (always a favorite at the L.A. club where I sometimes provide in-house percussion), Congolese soukous, highlife from Africa's western regions, ageless vintage salsa, jams built around Latin jazz and mambo, calypso that jumps joyously, a new track by contemporary masters Quantic and a perfect top-off in Gnonnas Pedro's Africanized take on Beny More's Cuban classic "Yiri Yiri Boum."
There are familiar names (Roaring Lion, Victor Uwaifo) among the artists here, but a goodly number are more obscure talents who nonetheless add just as much to the nearly 75-minute onslaught of heated excellence. It's all sure enough geared toward dancing pleasure, but hell, you could wash dishes to music like this and still feel a thrill.
A killer collection.
Buy the album:
Author:
Tom Orr
Tom Orr is a California-based writer whose talent and mental stability are of an equally questionable nature. His hobbies include ignoring trends, striking dramatic poses in front of his ever-tolerant wife and watching helplessly as his kids surpass him in all desirable traits.