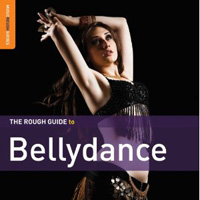 The Rough Guide to Bellydance (World Music Network RGNET1249CD, 2011)
The folks responsible for World Music Network's very extensive Rough Guide series must be too busy to notice just how much ground they've re-covered. I say this because there's already been a Rough Guide to Bellydance in addition to a new CD with the same title, The Rough Guide to Bellydance, a Rough Guide to Bellydance Café and a Bellydance compilation in the Oxfam-supporting Think Global series also put out by World Music Network. Okay, not all the collections were compiled by the same person and the words "Second Edition" appear parenthetically on the promo sheet for the latest of the lot, but has all this gone maybe a bit too far? I think not.
If you love the music of the Middle East, you can never get enough of it, whether or not you like to participate in or just observe the art of Bellydance, raqs sharki, danse orientale, baladi or any of the other names by which it's known. True to the myriad of names for it, there's more than one sort of music that can accompany it.
And the latest Rough Guide in the ongoing body of work is loaded with a variety of sounds primarily from Egypt but also factoring Lebanon, the Balkans, the U.S., Armenia, Turkey and even a band led by a Chilean into the mix. You might well get the urge to create your own dance moves to the accordion-laced hypnosis of Setrak Sarkissian, the Cairo Arabic Music Ensemble's Nile-invoking finesse, a combination of Armenian oud with Bulgarian sax from Richard Hagopian and Yuri Yunakov or the electronica of New York City's Sammarkand, but if you want to try your hand at the genuine article, there's a bonus DVD on which an instructor and dancer who simply goes by the name of Virginia shows how it's done. It's fun to watch even if you don't care to join in. As for me, I'll stick to the alternately rousing and seductive music on the CD.
Buy the album:
Author:
Tom Orr
Tom Orr is a California-based writer whose talent and mental stability are of an equally questionable nature. His hobbies include ignoring trends, striking dramatic poses in front of his ever-tolerant wife and watching helplessly as his kids surpass him in all desirable traits.