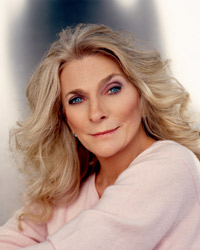 Iconic singer-songwriter Judy Collins will perform at the Carolina Theatre in Durham, North Carolina, on Thursday, March 31 at 8 p.m.
Collins' notable musical career has spanned over 50 years. She made her public debut at age 13 as a piano prodigy, but soon moved away from classical piano and began playing guitar. At the age of 22, she released her first album, A Maid of Constant Sorrow.
Collins was played an essential role in bringing little-known musicians to a wider public, as she recorded songs by singer-songwriters such as Leonard Cohen, Joni Mitchell and Randy Newman long before they gained national acclaim.
Collins is well known for her rendition of Joni Mitchell's "Both Sides Now" on her 1967 album, Wildflowers which has since been entered into the Grammy Hall of Fame. Collins' version of "Send in the Clowns" won Song of the Year at the 1975 Grammy Awards.
Collins, now 71, is still writing, performing and nurturing fresh talent. She is drawn to social activism and links her social history to her musical history. She is a modern day Renaissance woman who is also an accomplished painter, filmmaker, record label head, musical mentor, and an in-demand keynote speaker for mental health and suicide prevention.
She continues to create music of hope and healing. Collins' two latest creative projects include a new CD, Paradise, a collection of songs that include duets with Stephen Stills and Joan Baez, and "Over the Rainbow," a children's picture book and 3-song CD set.
Judy Collins will perform at the Carolina Theatre on Thursday, March 31 at 8 p.m. Tickets are on sale now at the Carolina Theatre Box Office or online at http://www.carolinatheatre.org/.
Call 919-560-3030 to purchase tickets. Box office hours are weekdays from 11:00 a.m. to 6:00 p.m. Tickets will also be available through Ticketmaster at 1-800-982-2787 or ticketmaster.com. Tickets are $42 or $32 for the general public and $36 or $27 for Carolina Star members and groups.
Author:
World Music Central News Department
World music news from the editors at World Music Central