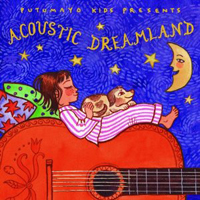 Putumayo World Music's children's music imprint, Putumayo Kids, has released a new title, the fifth, of its Dreamland series. The new album is titled Acoustic Dreamland.
Eleven well known singer-songwriters perform unplugged, soothing music meant to lull children to sleep and for adults to relax to. The CD includes songs originally recorded by the Allman Brothers Band, James Taylor, Wilco and Mary Chapin Carpenter, among others.
Veteran folk musician Lucy Kaplansky opens the album with a rendition of Mary Chapin Carpenter's lullaby "Dreamland." The lyrics to this song are featured in an enclosed booklet, illustrated by British artist Nicola Heindl, whose work appears on all Putumayo CDs.
Says Dan Storper, founder and CEO of Putumayo World Music, "Over the years, many people have told me that our CDs are indispensable to help put their children to sleep. They also use the CDs themselves to relax. With Acoustic Dreamland., I wanted to bring together some of my favorite singer-songwriters, children's musicians and songs. We've also included a mini-storybook that parents can read or sing along to. I've tested most of these songs on my 5 year-old son, William, and they've worked very well."
The collection features Parents' Choice? award-winner Victor Johnson's reassuring "Everything Is Going To Be Alright," while widely acclaimed Smithsonian/Folkways children's recording artist Elizabeth Mitchell lends her voice to the Allman Brothers' "Blue Sky." William Fitzsimmons gently encourages "You Can Close Your Eyes" (James Taylor) and Kesang Marstrand's evocals float "In the Land of Dreams."
Parents' Choice? award-winner Frances England recorded the lullaby "Here with Me" especially for this CD. Her song is followed by Mark Erelli's cover of Wilco's "My Darling," Rosie Thomas' "Tomorrow" and Daniel Martin Moore's "The Hour of Sleep."
Folk-rock band Hem's lilting "My Father's Waltz" nears the end, then Appalachian dulcimer master and children's singer Rick Scott eases the CD to a close with the promise of a "Next Time."
Buy the album:
Author:
World Music Central News Department
World music news from the editors at World Music Central