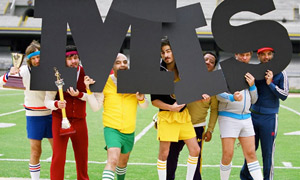 Sunday, April 17th, will be a special La Linea sampler night of artists playing with the unstoppable, loping Colombian cumbia beat that is popular with some of Hispanic America's youth from Buenos Aires to Mexico City.
Headliners Mexican Institute of Sound (Instituto Mexicano Del Sonido) make their UK debut. Cumbia is just one ingredient of their music but its flavor rubs off on everything else in the mix, which includes mariachi, hip hop, soul, punk, and ska. DJ and producer Camilo Lara is behind the project.
And kicking of the night is the defiantly Old School Cumbia of Pollito Boogaloo led by Colombia's Rafael Berrio playing live in the style of classic 60s cumbia, vallenato and puya and mixing in a little dub proving that in cumbia to know where you are at you truly have to hear where you are from.
Mexican Institute of Sound recordings available:
Sunday 17 April, Doors open at 7:00 pm
Koko
1A Camden High Street NW1 7JE
0844 847 2258
£15 in advance
Author:
World Music Central News Department
World music news from the editors at World Music Central