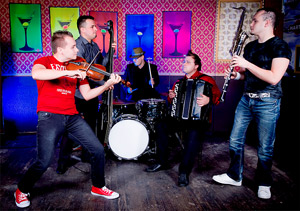 After competing against 24 Klezmer bands from 12 countries, the group KlezmaFour from Poland won two awards at the International Klezmer Music Competition in Amsterdam in 2010. As a result, KlezmaFour was invited to perform at Vancouver's Chutzpah Festival and Michael Dorf's City Winery in Manhattan. Their 2-week tour will start on February 27th and will conclude on March 13th, 2011, with concerts in Seattle, Chicago, Madison, Cincinnati and Boston.
This five-piece instrumental Klezmer band is lead by the two Czaplinski brothers, playing violin and clarinet. The sound is further complimented by accordion, upright base and drums. Together, these musicians produce a unique and harmonious sound, infused with jazz, Balkan, Polish folk music and other influences.
In the words of Wojtek one of the band's leader: "We want to create music which will sound like played on one instrument … a perfect feeling of colors, proportion and dynamics … and skillfully built on it. This is our destination, where we have been trying to arrive since the beginning".
Two brothers grew up watching their parents regularly perform Klezmer at a local Jewish restaurant in their home town of Lublin, Poland. Their father had discovered Klezmer music when performing in cruise ships that made stops in the USA. The brothers: Wojtek and Andrzej went on to study music at the prestigious Chopin's Music Academy, where they met the other band members: Gabriel Tomczuk, Rafal Grzaka and Tomasz Waldowski
Since the band's inception in 1999, their goal has been to develop a unique style primarily based upon the Klezmer musical tradition that was thriving in Poland prior to World War II. The band's music explores and tries to connect Poland's contemporary culture with Poland's multicultural past.
The band has released a self-titled CD in 2009, comprised largely of original works composed by the band members and their own arrangements of traditional tunes. They are currently working on their second CD.
Their Midwest appearances include:
March 3 (Thursday): Washburn, WI – StageNorth
March 5 (Saturday): Madison, WI – High Noon Salon
March 6 (Sunday): Chicago Jewish Music Festival
You can follow the band's tour on Facebook or website: http://klezmafour.pl/new/index/
Author:
World Music Central News Department
World music news from the editors at World Music Central