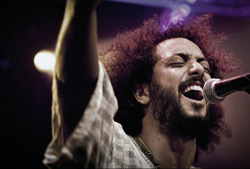 Middle Eastern band Yemen Blues is starting its North American tour this week.Yemen Blues performs traditional Yemenite melodies combined with the world of blues, jazz and funk.It is the powerful outcome of Ravid Kahalani's musical journey from his Yemenite roots to western influences.
Yemen Blues was founded by Ravid Kahalani, a rising star in Israel who grew up to a traditional Yemenite family, learned the language and the traditional chants of his origin, and extended his influences in the areas of blues and West African soul, from the Sahara desert through classical Opera singing to Afro-American blues.
Ravid joined forces with Omer Avital, a well known bass player and compositor, and together they gathered Yemen Blues, a supergroup of top musicians from New York, Israel and Uruguay.
Yemen Blues is "a language you will understand no matter where you come from", singer Ravid Kahalani says. "It is my origin and my influences all together as well as meeting with this group of amazing musicians."
Band members:
Avi Lebovich (Israel) – Trombone
Itamar Borochov (USA) – Trumpet
Rony Iwryn (Israel/ Uruguay)- Latin Percussion
Itamar Doari (Israel)- Mid East Percussion
Hilla Epstain (Israel) – Cello
Galia Hai (Israel) – Viola
Hadar Noiberg (USA)- Flute
Omer Avital (USA) – Oud, Bass, Vocals
Ravid Kahalani – (Israel/Finland) – Vocals, Gimbri, Percussion
Thu, Feb 24
8:00 pm
The Venue
Vancouver
Sat, Feb 26
8:30 pm
The Mod Club Theatre
Toronto, ON
25$/3 … 25$/30$
Sun, Feb 27
8:00 pm
Old Town School of Folk Music
Chicago, IL
Tue, Mar 01
8:00 pm
Congregation Rodeph Shalom
Philadelphia, PA
180$ / … 180$ / 36$
Wed, Mar 02
7:00 pm
The Triple Door
Seattle, WA
25$
Sat, Mar 05
8:00 pm
Freight & Salvage
Berkeley, CA
30$
Sun, Mar 06
7:00 pm
The Troubadour
Los Angeles
25$
Mon, Mar 07
7:00 pm
Mandalay Bay Resort Beach
Las Vegas, NV
Wed, Mar 09
8:00 pm
Le Poisson Rouge
New York, NY
Thu, Mar 10
8:00 pm
Somerville Theatre
Somerville, MA
Author:
World Music Central News Department
World music news from the editors at World Music Central