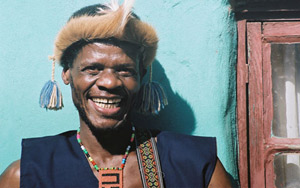 South African guitarist and singer Shiyani Ngcobo, a master maskanda musician from KwaZulu-Natal, passed away on February 18th of 2011. Born in 1953 in Umzinto, on KwaZulu-Natal's south coast, Shiyani Ngcobo was a maskanda musician for more than thirty years.
The winner of numerous maskanda awards, his use of a mixture of the rhythmic patterns associated with its different styles has earned him a reputation in South Africa as something of a maskanda maestro.
His only album Introducing Shiyani Ngcobo (INTRO101CD, 2004) was produced by British producer Ben Mandelson, who has discovered Ngcobo at a festival in Durban, South Africa. Introducing Shiyani Ngcobo was released on World Music Network's Introducing series.
We reproduce the obituary provided by Ngcobo record company, written by Dr. Kathryn Olsen
"Shiyani Ngcobo, master maskanda musician from KwaZulu-Natal passed away on the 18th February 2011. Shiyani's music stood apart from the other many maskanda musicians playing and recording in South Africa largely on account of his resistance to local trends that favour electronic drums-kits and synthesizers. For Shiyani, these sounds were alien to the aesthetic of maskanda and its claim on Zulu tradition.
Shiyani's life was marked by contradictions. He reached great heights as a performer, playing across the United Kingdom, Europe and Cuba. His acclaimed recording with World Music Network did much to increase his exposure beyond South Africa, and in 2007 he performed at Carnegie Hall, New York.
Despite his international recognition he was largely snubbed by the music industry at home. He lived in humble circumstances and was devoted to his wife, Gertrude, daughter, Khanysile and two grandchildren. Shiyani taught maskanda guitar in School of Music at the University of KwaZulu-Natal and in an affiliated outreach program, UKUSA. He was admired by students and academics alike.
Shiyani was a gentle and intense man with remarkable insights into human nature. His experience and emotions are captured in his music, which will most certainly be treasured by many across the globe. It was my great privilege to work closely with Shiyani. We shared many troubles and joys. Hamba Kahle my dear friend."
Video: Shiyani Ngcobo The bathroom recordings in Nantes 1997
Video: Shiyani Ngcobo Live Nantes 1997
Author:
World Music Central News Department
World music news from the editors at World Music Central