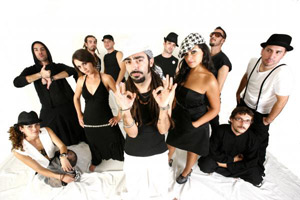 We begin the new Video of the Week section at World Music Central with the video La vida en serie by mestizo band La Selva Sur from Sevilla (Spain).
The music video shows the life of a TV-obsessed freaky guy. This the the second single from the debut album titled "La Gran Orquesta kamástronica de la zanfoña galáctica released in 2010."
La Selva Sur describes itself as a mestizo world music swing band, influenced by mestizo sounds, swing, reggae, Balkan, ska, rock and Latin rhythms. The line includes: Chusta on vocals; Cheché Álvarez and Silvia on backing vocals; Fernando Lamadrid on bass; Chacho Martín on drums; Marcos Muné on guitars; Moi on keyboards; and Pepe on brass.
After touring Spain and Portugal, La Selva Sur will continue with its international Kamastra Tour '11. The band will take its live experience across the ocean to Havana, Kingston, New Orleans and then back to Europe. The European itinerary will include London, Bucarest and Belgrade.
Author:
World Music Central News Department
World music news from the editors at World Music Central