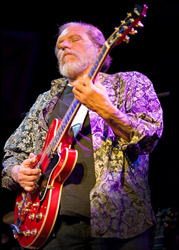 Hot Tuna, known for their mix of acoustic and electric blues, will appear at the Carolina Theatre in Durham (North Carolina) on Tuesday, February 22 at 8 p.m.
From their days playing together as teenagers to their current acoustic and electric blues, probably no one has more consistently led American music for the last fifty years than Rock and Roll Hall of Famers, Jorma Kaukonen and Jack Casady of Hot Tuna, formerly of Jefferson Airplane. The pair began playing together while growing up in the Washington D.C. area, where Jack's father was a dentist and Jorma's father was a State Department official.
After more than 40 years together, Hot Tuna continues to enthrall audiences with their music: an eclectic effort of blues, bluegrass, jazz and folk rock. The bluesy folk-rock duo will be releasing a new album in 2011.
Produced by veteran Larry Campbell, Hot Tuna's latest album, Steady As She Goes, will make this over 30 albums altogether for the band (not including several reissues), equating to over 50 years of music and friendship between Kaukonen and Casady, an unprecedented feat among musicians.
Since 1969, Kaukonen and Casady have seamlessly managed to keep their music fresh. Part of this success comes from their love of collaboration. Hot Tuna continuously strive to expand their sound, and they achieve this by melding their skills with those of others.
Joining them in 2011 for their much anticipated Hot Tuna Blues Tour are celebrated guests Charlie Musselwhite and Jim Lauderdale.
Charlie Musselwhite is a captivating musician, one who laid the ground rules for playing the blues. Musselwhite has met great success thanks to his mastery of harmonica blues. He has been touring nationally and internationally for 40 years and has earned 18 W.C. Handy Awards, seven Grammy nominations, and numerous Lifetime Achievement Awards.
Despite a long career, his success is hardly over; The Well Lyrics was a 2011 Grammy nominee for Best Traditional Blues Album. With over 30 albums and dozens of awards on his plate, Musselwhite is among the best-known and best-loved blues musicians in the world.
Jim Lauderdale is a multi-talented performer and songwriter known for his success in country and bluegrass music. He was recently featured in the Gwyneth Paltrow film Country Strong, and was honored with the Inspiration Award at the SESAC 2010 Nashville Music Awards.
His 2009 album Could We Get Any Closer was a 2010 Grammy nominee for Best Bluegrass Album and he is a two-time Grammy winner. Lauderdale is also among Nashville's top songwriters, with songs recorded by artists such as The Dixie Chicks, Patty Loveless, George Jones, Vince Gill and many others.
Hot Tuna recordings available:
Jorma Kaukonen recordings available:
Hot Tuna Blues comes to the Carolina Theatre in Durham, Tuesday, February 22 at 8 p.m. Tickets are on sale now at the theatre box office or online at carolinatheatre.org. Call 919-560-3030 to purchase tickets. Box office hours are weekdays from 11 a.m. to 6 p.m. Tickets are also available through Ticketmaster at 1-800-982-2787 or ticketmaster.com. Tickets are $52, $42 and $32 for the general public and $36 and $27 for Carolina Star Members.
Author:
World Music Central News Department
World music news from the editors at World Music Central