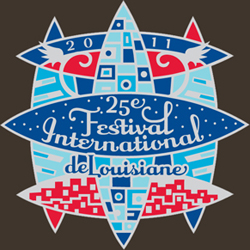 Festival International de Louisiane will celebrate 25 years of music, art, and cuisine in 2011. This year's line-up includes world music, blues, Cajun, Zydeco, Latin Alternative and much more. Artists scheduled to perform include Keb' Mo', Master Drummers of Burundi, Balkan Beat Box, Locos Por Juana, BeauSoleil avec Michael Doucet, etc.
The festival will stage over 100 performances over 5 days and it is free. The annual festival is held during the last full week of April. Historic downtown Lafayette in southern Louisiana is transformed into an entertainment complex featuring six music stages, food court areas, street musicians and animators, arts and crafts boutiques, art galleries, beverage stands, cultural workshops, international cooking demonstrations and a world music store.
The history of Lafayette is connected to the Acadians, descendants of French colonists from Nova Scotia (Canada) who migrated to Louisiana in the 1760s after being driven from their Canadian home by the British.
Below is the list of performers for the 25th Anniversary of Festival International de Louisiane, held April 27-May 1, 2011.
Keb' Mo'Keb' Mo'
Remesha Master Drummers of Burundi
Balkan Beat BoxBalkan Beat Box
Locos Por Juana
Rootz Underground
The Louisiana Experience
Bomba Estéreo
JJ Grey & Mofro
March Fourth Marching Band
Sonny Landreth
Red Baraat
BeauSoleil avec Michael Doucet
The Duhks
Boukman Eksperyans
Terrance Simien & the Zydeco Experience
Tetes en l'air StiltwalkersTetes en l'air Stiltwalkers
DJA-Rara
SuroîtSuroît
Toubab Krewe
Umalali
Élage Diouf
Ricardo Lemvo & Makina Loca
Keith Frank & the Soileau Zydeco Band
Mousta Largo
Lil' Nathan & the Zydeco Big TimersLil' Nathan & the Zydeco Big Timers
Feufollet
BRASS BED
Soul Rebels Brass BandSoul Rebels Brass Band
Le Grand Baton
Chubby Carrier and the Bayou Swamp Band
Lil' Buck Sinegal
Ngâbo
Honey Island Swamp Band
Myëlle
Lisa LeBlanc
Horace Trahan and the Ossun Express
Donoré
Steve Riley & the Mamou Playboys
Jeffery Broussard & the Creole Cowboys
Lost Bayou RamblersLost Bayou Ramblers
Vagabond Swing
LA Regional EE Jazz Festival Winner w/ Wycliffe Gordon
Acadiana Symphony Orchestra
Joel Savoy, Jesse Legé and the Cajun Country Revival
Michael Juan Nunez
Yvette Landry
Soul Express Brass Band
Author:
World Music Central News Department
World music news from the editors at World Music Central