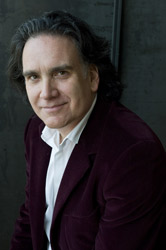 Award-Winning composer, philanthropist, and author, Peter Buffett will be releasing, on USB only, Running Blind, an album that will come pre-loaded with audiophile quality tracks, never-before heard live songs, videos, photos, and more from his thirty plus years in the music industry, including world music collaborations featuring Akon.
Available February 22nd, Running Blind will offer something different from its USB predecessors. Once plugged in, an interactive flash-based environment will allow users to browse through the material in a cozy, old-school attic, complete with a TV, record player, iPod and bean bag chair. There, users can explore the vaults of Peter's lengthy career in the music industry, through music, videos and pictures.
As a renown philanthropist, who recently partnered with DoSomething.org, you can find traces of his humanitarian work throughout the attic as many of the songs and videos on the USB were made with the intent to bring awareness to social issues around the globe.
Peter's work is always changing, but it never strays from one theme: the importance of living a conscious life and motivating individuals to stand together. A visit to Sierra Leone and Liberia inspired the song "Anything," a plea to give back to those in need living in the troubled regions.
Akon caught wind of the track and quickly reached out to lend his vocals to the song. The two teamed up again to shed light on the atrocities of human trafficking with "Blood Into Gold," which debuted at a United Nations concert to commemorate the International Day of Remembrance of the Victims of Slavery and the Transatlantic Slave Trade.
Lastly, Peter collaborated with Angelique Kidjo on "A Song for Everyone," which benefited her non-profit, the Batonga Foundation. Although not included on the USB, the latter track adds to his vast repertoire of songs mean to inspire change throughout the world.
Through his music, live performance event, "Concert & Conversation," bestselling book and philanthropic work, Peter truly strives to inspire on multiple levels; and now Peter is bringing all of these elements into one aggregated, easy-to-access location. The USB is currently available as a pre-order at Peter's store: www.peterbuffett.com/store.
Author:
World Music Central News Department
World music news from the editors at World Music Central