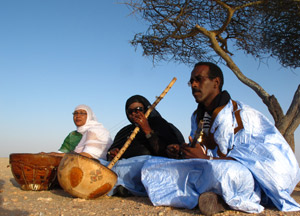 Group Doueh will be returning to Europe in May 2011. Buoyed by an early invite to play at Animal Collective's All Tomorrow's Parties (ATP), the band will play select dates around Europe. This will be their first tour since the famous Sublime Frequencies Tour of 2009 with Omar Souleyman. The band will be a six piece with Doueh's son on keybaords and two backing singers/percussionists supporting the powerful and soulful voice of Halima on lead vocals, all led by the totemic Doueh on guitar and tinidit.
Group Doueh, from Dakhla (Villa Cisneros) in the Western Sahara, is a band, a family and a close and ever changing brood of players. It is led by the enigmatic Doueh, and they switch from soaring and hypnotic rocking and rolling guitar tracks with huge choruses to meditative and transcendental acoustic folk songs, rooted in the traditional foundations of Saharawi music.
The now legendary Group Doueh have been playing in and around their native homeland for over 27 years, the band morphing between acoustic and electric modes with members of their family and friends joining the band as the mood requires. The enigmatic guitar hero Bamaar Salmou, who is known simply as 'Doueh' (pronounced: 'Doo-way') and his wife, the incredible vocalist Halima, bring their son on keyboards as well as three female backing vocalists/percussionists.
The group's ancient/modern sound is rooted in the traditional foundations of Saharawi music, but takes it in a direction that is also entirely its own. It shares its roots with the neighboring styles of Mauritanian music – yet Group Doueh have managed to transcend the limitations of that music with a fiery, independent, and individualistic approach that incorporates a distinctly rock element anomalous in the region. This is a sound that can only come from the land that inspired it: the Sahara desert.
Group Doueh – Live in Europe 2009 Video
The discovery of the group by Sublime Frequencies, via a song snatched from a AM radio broadcast in Morocco in 2005 (as well as an exploratory mission in 2006 that landed Hisham Mayet in the group's compound after chasing an overland trail all the way to the Mauritanian border) sealed the band's relationship with the label.
Tony Allen & Doueh – Rehearsals in Dakhla Video
A successful European tour with labelmate Omar Souleyman in 2009 ensued and western audiences were finally able to witness the power of the group's mighty live shows. In 2010 Doueh hosted Tony Allen in his home town and joined in on some of his dates in Europe. Sublime Frequencie have released three albums by the band in recent years, and a set featuring the band at their most upfront and catchy should be released in time for this tour.
Recordings available:
Tour dates
Wed May 11th
Manchester, UK
Islington Mill (+ The Brothers Unconnected)
Thur May 12th
Reading, UK
South Street Arts Centre (+ Very Special Guests)
Fri May 13th
London, UK
Barbican (+ Hayvanlar Alemi with Sublime Frequencies DJs)
Sat May 14th
Minehead, UK
Animal Collective's All Tomorrow's Parties
Wed May 18th
Nijmegen, NL
Doornroosje
Thurs May 19th
Aarhus, DK
Atlas
Fri May 20th
Copenhagen, DK
Global
Sat May 21st
Gothenburg, SE
Nefertiti Jazz Club
Mon May 23rd
Helsinki, FI
Korjaamo (Vaunusali)
Fri May 27th
Amsterdam, NL
Paradiso
Sat May 28th
Paris, FR
Villette Sonique
Sun May 29th
Lille, FR
Aéronef club
Author:
World Music Central News Department
World music news from the editors at World Music Central