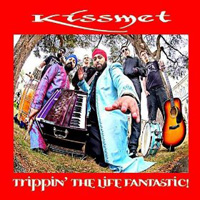 Kissmet
Silks, turbans, tablas and electric guitars. With roots in the Punjab, "Trippin' the life fantastic!" is possibly the perfect rock crossover album. All the vim and vigour of Bhangra music combined with prog rock stadium vocals in a Phil Collins does Bollywood style and that's not all, this album contains a fair few twists and surprises that will energize and keep you on your toes. 'Trippin' the Life Fantastic' is the first full album for British based Kissmet lovingly produced and mixed in their own studios.
The album is the long awaited realization of Singh brothers, Buzz and Ron, who grew up with their mother singing Elvis songs and a childhood watching endless screenings of classic Indian films in their family owned cinema. During their school years they absorbed the sounds on the radio, Genesis, The Police, Pink Floyd and The Stranglers to name but a few on heavy rotation, filling the airwaves.
For the Singh brothers, it all fitted in seamlessly with the rows and rows of bhangra tapes in their local shops and their relative's homes. Tapes from the likes of Alaap and Heera sold by the bucket loads and it wasn't long before first generation British Asians were the eighties inspired rock guitar riffs and taking Bhangra music to the next level.
"We used to go to relatives homes and it was row upon row of bhangra tapes. No rock music but when they heard our music it was like wow man….this is great, it sounds Indian bits its not Indian" says lead singer Ron Singh.
It's therefore a natural conclusion and a perfect marriage, to hear their thoroughly entertaining, 'A Whole Lotta Nachna', Kissmet's take on that famous Led Zep cut. Guitar riffs cranked up and combined with a dhol backbeat are essential ingredients to keep the audience wired and the mosh pit full to bursting. You get a real sense of their live stage presence, as the brothers skilfully mix in live recordings with studio takes. Its an energy which is carried over into the next track 'Why Oi!!!' and indeed, right across the album.
Classic rock fans can't fail to appreciate 'Channa' in which Cream's Sunshine of Your Love is fused with Chan Kithe, the famous Punjabi song. Typical of Kissmet's style, it has more screams and longer tongues than both Kali and American rockers Kiss, ( from whom they parody their name) and just when you thought the speaker stack may well collapse, recovery comes in the form of two love songs. 'Rainbow's Gold' and 'I Need Your Love' with lyrics courtesy of Ron Singh a man with so much love it hurts.
Underpinned by gentle tabla playing we get a glimpse of the musical prowess of the other brother, Max, who also excels in the psychedelic ambient track 'Dodge the Rain'. "Tripping the Life Fantastic" has been put together like the perfect live set, you can almost smell the mud, incense and sweat of the festival crowds, where Kissmet have a forged an unrivaled live reputation.
Buy the album:
Author:
Jill Turner
Jill Turner contributes to Songlines Magazine, World Music Central and is on the fRoots critics albums of the year panel. Her radio show GondwanaSound broadcasts on Sheffield Live! 93.2FM to the fourth largest city in the UK and is carried on both Radio Groovalizacion and African Internet Radio.