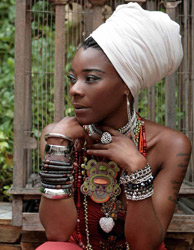 New York City's Manhattan Center will play host to a new annual concert event featuring three of Spain's diverse and internationally-acclaimed music stars entitled Live From NY: An Evening Of Music/Una Noche De Musica on Friday February 18th at 8pm.
Produced by Arteria, one of Spain's leading arts & culture organizations, Live From NY: An Evening Of Music/Una Noche De Musica will showcase an exciting lineup featuring Buika, the critically-acclaimed flamenco/jazz singer-songwriter who has captivated media and fans worldwide over four album releases; Miguel Bosé, the international Spanish pop icon who has been performing for 30+ years and has sold over 3 million albums worldwide; and Mala Rodríguez, the Latin Grammy-winning hip-hop star whose urban sound fuses flamenco, soul and R&B with great beats and insightful lyrics.
Tickets will go on sale this Monday, January 10th through Ticketmaster and SOBs, priced at $95, $60 and $40.
The concert will be artistically directed by Javier Limón. Limón is a multiple Grammy-winner and has done extraordinary work with his production company Casa Limón, introducing the mainstream and international markets to some of the most distinctive voices in Latin music.
"We are very excited to be able to see different artists of this quality together in a theater that has become a classic in the Big Apple and to help generate the state of cultivation required for the "duende"-magic-of such an evening," comments Limón. "New York already provides a great natural setting that inspires the artists, so what better to communicate to the world the good health of our music, and begin a series of concerts in New York that year after year will help establish our presence in the U.S. market."
Live From NY will serve as a cultural bridge between Spanish-speaking countries and allow Arteria to showcase the wealth of diverse music and cultural offerings from different Latin countries annually and create a cultural exchange.
Arteria is an offshoot of SGAE, the Society of Authors, Composers and Publishers that represents the rights of over 100,000 affiliates and collects the royalties and rights generated by more than 5 million musical, theatrical and audiovisual works.
Arteria also collaborates on various innovative artistic endeavors with SGAE musicians/writers to create original events within their branded network of venues and theaters across Spain, Latin America, and now New York City. Live From NY will be Arteria's first presentation within the U.S. market.
Buy Buika's recordings:
Mala Rodríguez recordings available:
Miguel Bose recordings available:
Hammerstein Ballroom – Manhattan Center
Doors at 8:00pm, Showtime 8:30pm
Tickets ranging from $40-$90 – available on 1/7/11
Tickets: www.ticketmaster.com
More at www.arteria.com
Update:
This event was canceled due to difficulties getting the visas required in order to travel to the USA. All tickets are also completely refundable through Ticketmaster.
Author:
World Music Central News Department
World music news from the editors at World Music Central