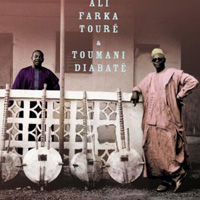 Winners of the 53rd Annual GRAMMY Awards in the world music categories were announced tonight, February 13, 2011. Mali's Ali Farka Touré & Toumani Diabaté won in the Best Traditional World Music Album category with the album Ali And Toumani. Recorded in 2005, with contributions from Cachaíto López on bass, this World Circuit/Nonesuch album, produced by Nick Gold, is the successor to the In the Heart of the Moon, which won the Grammy in the same category in 2005, and is the last recording by both Touré and López.
The Best Contemporary World Music Album went to American banjo player Béla Fleck for his Africa Sessions work, Throw Down Your Heart , Africa Sessions Part 2: Unreleased Tracks.
The Carolina Chocolate Drops' Nonesuch debut, Genuine Negro Jig, won the award for Best Traditional Folk Album. On the record, produced by Joe Henry, the multi-instrumental group reclaims and revives a near-forgotten brand of banjo-driven string-band music from North Carolina's Piedmont region.
The awards show was broadcast live at Staples Center in Los Angeles on the CBS Television Network.
Following is a list of the world music-related winners:
Best Traditional World Music Album, Vocal or Instrumental
Ali And Toumani – Ali Farka Touré & Toumani Diabaté [World Circuit-Nonesuch]
Best Contemporary World Music Album
Best Tropical Latin Album
Best Traditional Folk Album, Vocal or Instrumental
Best Contemporary Folk Album, Vocal or Instrumental
Best Hawaiian Music Album, Vocal or Instrumental
Best Native American Music Album, Vocal or Instrumental
2010 Gathering Of Nations Pow Wow: A Spirit's Dance (Various Artists) – Derek Mathews, Dr. Lita Mathews & Melonie Mathews, producers [Gathering Of Nations Records]
Best Zydeco Or Cajun Music Album
Zydeco Junkie – Chubby Carrier And The Bayou Swamp Band [Swampadellic Records]
Best Latin Jazz Album
Chucho's Steps – Chucho Valdés And The Afro-Cuban Messengers [Four Quarters Entertainment]
Best Reggae Album, Vocal or Instrumental
Best New Age Album
Best Latin Rock, Alternative Or Urban Album, Vocal or Instrumental
Best Americana Album, Vocal or Instrumental
Best Bluegrass Album, Vocal or Instrumental
Best Traditional Blues Album
Best Contemporary Blues Album
Best Pop Collaboration With Vocals
Herbie Hancock with Pink, India.Arie, Seal, Konono No. 1, Jeff Beck, and Oumou Sangare – Imagine, Track from: The Imagine Project [Hancock Records]
Complete list of winners at http://www.grammy.com/nominees
Author:
World Music Central News Department
World music news from the editors at World Music Central