KlezmerQuerque a 3 day festival of concerts, workshops and dance parties featuring Klezmer (the traditional dance & instrumental music of the Eastern European Jewish people) will take place Friday evening through Sunday evening over Presidents Day weekend, from February 18-20, 2011.
KlezmerQuerque 2011 welcomes three renowned klezmer artists & scholars who hail from New York City and New England: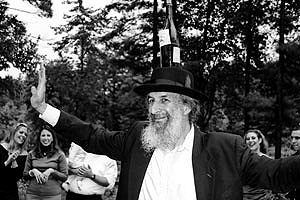 Joe "Yosl" Kurland presents Yiddish language, song, dance & fidl. He is a walking treasure of Yiddishekeit (Jewish folkarts). Yosl enjoys writing his own songs & stories in the Yiddish language, which is the written and spoken language of the East European Jews.
Yosl has taught Yiddish language at the National Yiddish Book Center and at various national conferences, and he has taught the children's program at the annual "Klez Kamp" Yiddish folk arts program in New York. He is a founding member of the New England-based Wholesale Klezmer Band which has recorded several CDs and performed throughout the east coast including for the Presidential inauguration.
Joe "Yosl" Kurland recordings available:
Accordionist and Fulbright scholar Christina Crowder was trained as a classical pianist, but caught the folk music bug in college and switched to accordion. Christina moved to Hungary in 1993, where she studied Hungarian folk dance and became a founding member of the world-renowned Budapest-based Yiddish music ensemble Di Naye Kapelye and recorded on their first 3 albums.
Di Naye Kapelye focused on both researching and re-creating the sound of the musicians that served rural and urban Jewish communities in the early 20th century. Christina and her husband John DeMetrick continued this research with Fulbright grants to Romania in 1999-2001. Their work encompassed field-work with musicians, archival research and collecting commercial recordings related to Jewish music in Romania. Christina is also a member of The Wholesale Klezmer Band.
Christina Crowder recordings available: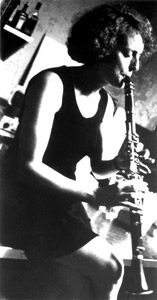 Virtuoso clarinetist Margot Leverett is a protégé of famed-klezmer clarinetist Sid Beckerman. She is one of the foremost clarinetists of the klezmer revival. Classically trained at Indiana University School of Music, Leverett was a founding member of the Klezmatics in 1985 before moving on to establish a solo career. Her first CD, The Art of Klezmer Clarinet, a tribute to classic klezmer of the 20′s and 30′s, was released in 2001 on Traditional Crossroads to glowing reviews.
Her current project, Margot Leverett and the Klezmer Mountain Boys is an all-star band combining bluegrass and klezmer. Their self-titled CD, Margot Leverett & The Klezmer Mountain Boys, released to rave reviews in 2002, was choreographed by the Paul Taylor Dance Company in a new work entitled "Klezmerbluegrass". Their latest release Second Avenue Square Dance features guest artists Jorma Kaukonen and Hazel Dickens and is also available on Traditional Crossroads.
Margot was a staff instructor at KlezKamp for over 10 years and has also taught at KlezKanada, Klezkamp West, KlezCalifornia, KlezmerQuerque 2004-06, and at colleges, music festivals, and Jewish organizations across the country, in Europe and Japan.
Margot Leverett recordings available:
KlezmerQuerque begins on Friday evening February 18th at 6:30pm, with 'Der Freylekher Shabbos' – a joyous & participatory Shabbat service with singing & dancing in an Old Country style featuring Yosl, Margot, Christina, plus–Rabbi Deborah Brin, Cantorial soloist Beth Cohen, The 25-piece Nahalat Shalom Community Klezmer Band & Rikud dancers.
At 7pm there will be a vegetarian potluck dinner. At 7:45 Margot Leverett will perform with the Albuquerque-based klezmer & Judaic ensemble The Rebbe's Orkestra. From 8:15-10pm there will be more dancing led by Rikud Yiddish dance troupe and Yosl and music by the Community Klezmer Band with guest artists. There is an $18 suggested optional donation.
On Saturday, February 19th there are 3 events. From 10am-noon Yosl Kurland will lead a learner's Shabbos Service featuring a "hands-on" workshop/service using traditional 'nusakh' (special melodies which use specific modes & scales). Teachings will be given by Rabbi Deborah Brin. From 2-3:30pm Yosl will present an introduction to Yiddish language by means of songs and games to convey a bit of vocabulary and a taste of a Jewish way of looking at the world as reflected in the language. Both Saturday daytime events are free and open to all.
The big concert and dance party on Saturday will begin at 7:30pm (doors at 7:00pm) featuring Yiddish songs and klezmer music by Christina, Yosl & Margot, –plus Klezmer & Sephardic music by The Rebbe's Orkestra with special guest clarinetist Margot Leverett.
After the sit-down portion of the concert, the chairs will be pushed back for music & dancing with friends from The Community Klezmer band & Rikud joining the guest artists for a klezmer dance party you won't forget!! [Tickets at the door: $20-general/$18-seniors, students & fixed income. Advanced ticekts are $18-all ages–CALL: (505)243-6276, OR add $1.00 handling fee @ Bookworks, 4022 Rio Grande Blvd. N.W. (505) 344-8139 and after FEB. 3rd @ Natural Sound, 205 Wellesley S.E., in Nob Hill (505) 255-8295].
On Sunday, February 20th from 10am-5pm there will be 3 sessions of classes in Klezmer music and/or dance with Margot (music), Yosl (dance) and Christina (music). There will also be a 'Lunch 'n Learn' featuring a delicious catered 'milkhik' lunch (no meat / yes: fish, eggs, dairy & lots of veggie foods) and a presentation by scholar Christina Crowder. She will share some of the field recordings she collected in northern Romania—Maramures and Bukovina, gramophone recordings, and a discussion of on-going research to understand the ways in which Jewish music influenced, and was influenced by local musics from the eastern part of present-day Romania and the Republic of Moldova respectively. The price per music/dance class is $20-general and $15-seniors/under 18. There is a minimum $10-$15 donation for the 'Lunch 'n Learn' and reservations must be made by February 11th.
The festival is produced by Nahalat Shalom, its 25-piece intergenerational Community Klezmer Band and Rikud Yiddish dance troupe.
The advanced registration discount for ALL events (3 workshops, 1 Lunch 'n Learn, and 2 concerts/dance parties) is $85.00-general / $70-seniors, students & fixed income. Registration and payment must be received BY Friday, February 11th for this discount. On-line payment with Paypal ('Donate' button) and downloadable registration forms are available at http://www.nahalatshalom.org . Classes and events can also be paid for separately during the festival.
For detailed information about class times, prices, tickets & registration contact: Beth Cohen, KlezmerQuerque Ko-ordinator (505) 243-6276 cohenedmunds@netzero.net, Web site: http://www.nahalatshalom.org Klick on "Klezmer music/dance" & "KlezmerQuerque"
All events take place at Congregation Nahalat Shalom, 3606 Rio Grande Blvd. NW (between Candelaria & Griegos) in Albuquerque, New Mexico 87107
Author:
World Music Central News Department
World music news from the editors at World Music Central