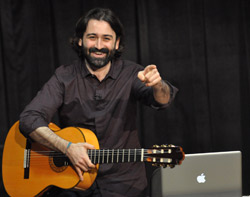 Noted Spanish composer and producer Javier Limón, a Grammy Award-, and seven-time Latin Grammy Award-winner, has been appointed as a Visiting Professor at Berklee College of Music in Boston during 2011 – 2012. Limón will concentrate his efforts on teaching Mediterranean Music, styles rooted in the cultures of the Mediterranean rim.
A graduate of New York's St. Francis Preparatory School, and the Madrid Royal Conservatory, where he studied classical piano, oboe and guitar, Limón began his career as a composer, working with various flamenco artists.
After meeting Bebo Valdés and Jerry González, Limón began working in Latin jazz and with Cuban musicians, in addition to his first love, flamenco. He has recorded all over the world, including in the West Bank, Bogotá, Bristol, Paris, Bahía Blanca, Buenos Aires, New York City, and Morocco.
"In this moment, Javier Limón is one of the most quietly influential figures in Latin music worldwide," said Dr. Lawrence Simpson, Berklee Provost and Senior Vice President for Academic Affairs. "His aesthetic as a composer and producer are at the leading edge of music today, and his enthusiasm for working across musical genres is very much in keeping with the global nature of Berklee. We are thrilled to have him teaching with us this year, particularly as we begin the first programs at our new campus in Valencia, Spain."
Limon's many composition and production credits include major albums with artists including Paco de Lucía, Bebo Valdés, El Cigala, Enrique Morente, Wynton Marsalis, Avishai Cohen, Alicia Keys and the acclaimed Spanish singer, Buika.
In 2004, Limón was awarded the Latin Grammy for Producer of the Year for his work on five records: Lágrimas Negras, by Diego El Cigala and Bebo Valdés, Cositas Buenas by Paco de Lucía, El Cantante by Andrés Calamaro, El Pequeño Reloj by Enrique Morente, Niño Josele by Niño Josele, and Tributo Flamenco A Don Juan Valderama by various artists.
In 2009, Limón was awarded his first Grammy Award for Best Latin Jazz Album for recording Juntos Para Siempre, a series of father and son piano duets by Bebo and Chucho Valdés.
Javier Limón will appear on August 12 and 13 at The Hollywood Bowl in Los Angeles in En Fuego: Voices and Guitars a celebration of the passion and rhythm of the guitar. This concert brings the Los Angeles Philharmonic together with Javier Limón, Mexican duo Rodrigo y Gabriela along with Spanish songstress Buika. Limón will present the Mujeres de Agua project.
Berklee College of Music was founded on the revolutionary principle that the best way to prepare students for careers in music was through the study and practice of contemporary music. For over half a century, the college has evolved constantly to reflect the state of the art of music and the music business.
Author:
World Music Central News Department
World music news from the editors at World Music Central