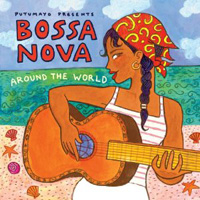 Bossa Nova Around the World (Putumayo PUT 306-2, 2011)
It's not uncommon nowadays to hear the sounds of Brazilian bossa nova (and its more African predecessor, samba) blended with electronica for an ideal downtempo chill session. But chill is nothing if not an offshoot of cool, and bossa nova has been many a hipster's music of choice since the late 1950s, when Afro-Brazilian rhythms first met up with jazz and the lyrical sensibility of musical experimenters like Antonio Carlos Jobim and Joao Gilberto.
Within a few years, bossa nova ("new trend") was a sensation that spread well past Brazil's lengthy borders. Its popularity survived Brazil's massively influential tropicalia movement and the world music boom of the last quarter century, and continued survival is assured with a collection like Putumayo's Bossa Nova Around the World.
You wouldn't know it if you didn't look at the parentheses after each of the dozen artist's names, but only two -Bia and Pierre Aderne- have any Brazilian blood in them. The rest are from as far afield as Norway, Serbia and South Korea. Each, however, puts their own spin on bossa's characteristically sensual, cocktail-sipping sound.
USA/UK duo Stacey Kent and Jim Tomlinson deliver a version of the standard "So Nice" that more than lives up to the title, and the twosome configuration likewise works mellow magic on songs by France's Tom and Joy (their version of Jobim's "Meditation" is a beauty), Germany's 2raumwohnung and, unsurprisingly, Nancy Vieira and Tito Paris, whose Lusophone African roots give them an instant musical tie-in to Brazil.
The jazz side of bossa nova's origins is most apparent in the snappy instrumental "Menina Moca" by Balkan trumpeter Dusko Goykovich, while low-key sweetness from Didier Sustrac, Amanda Martinez and Kad Achouri round out the set. Another fine compilation in Putumayo's Around the World series, the music here revisits and updates the bossa nova style with a relaxed elegance that goes down easy.
Buy the album:
Author:
Tom Orr
Tom Orr is a California-based writer whose talent and mental stability are of an equally questionable nature. His hobbies include ignoring trends, striking dramatic poses in front of his ever-tolerant wife and watching helplessly as his kids surpass him in all desirable traits.