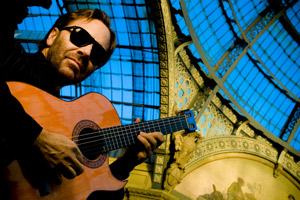 The Pacific Jazz Institute at Dimitriou's Jazz Alley will present the Al Di Meola World Sinfonia with Al Di Meola (guitar), Gumbi Ortiz (percussion), Peo Alfonsi (guitar), Victor Miranda (bass), Peter Kaszas (percussion) and Fausto Beccalossi (accordion) on February 24 – 27. Set times Thursday – Saturday at 7:30pm and 9:30pm and Sunday at 7:30pm. Doors open at 6pm on Thursday and 5:30pm Friday – Sunday.
A renowned guitarist, Al Di Meola has also been recognized over the past 30 years as a prolific composer and respected artist with over 20 recordings as a leader.
His creative output to date is staggering, whether it's with his current World Sinfonia band or past musical endeavors like his electric Tour de Force group with Jan Hammer, Anthony Jackson, Steve Gadd and Mingo Lewis, the internationally acclaimed Trio with fellow guitar superstars John McLaughlin and Paco de Lucia, the Rite of Strings trio with Stanley Clarke and Jean-Luc Ponty or the '70s fusion supergroup Return To Forever with Chick Corea, Stanley Clarke and Lenny White.
While his dazzling technique on both acoustic and electric guitars has afforded him regal status among the hordes of fret board aficionados who regularly flock to his concerts, the depth of Di Meola's writing along with the soulfulness and his inherent lyricism of his guitaristic expression have won him legions of fans worldwide beyond the six-string set.
Di Meola's ongoing fascination with complex rhythmic syncopation combined with provocative lyrical melodies and sophisticated harmony has been at the heart of his music throughout a celebrated career that has earned him critical accolades, three gold albums, and more than six million in record sales worldwide.
He has been particularly enamored over the past 20 years by the tango music of the late Argentinian composer Astor Piazzolla, whose compositions he has interpreted over time, beginning with 1990's Di Meola Plays Piazzolla, continuing to 1993's Heart of the Immigrants, 2002's Flesh on Flesh and right up to 2007's Diabolic Inventions and Seduction for Solo Guitar. "Piazzolla had a profound effect on my development as a musician and as a person," says Al. "We became close friends, often communicating by mail. And during the course of this friendship my admiration and desire to learn more about this great man intensified."
Recordings available:
In North America: Pursuit of Radical Rhapsody, Elegant Gypsy, He & Carmen, Land of the Midnight Sun, Splendido Hotel, Kiss My Axe, Consequence of Chaos, Flesh on Flesh, La Melodia Live in Milano, Casino, Friday Night in San Francisco – Live, Christmas: Winter Nights, The Guitar Trio, Infinite Desire
The Pacific Jazz Institute at Dimitriou's Jazz Alley
2033 6th Avenue
Seattle, WA, 98121
COST: $28.50
www.jazzalley.com
Author:
World Music Central News Department
World music news from the editors at World Music Central