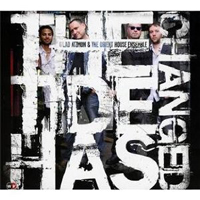 Gilad Atzmon & The Orient House Ensemble
The Tide Has Changed (World Village, 2010)
Israeli Jewish multi-instrumentalist Gilad Atzmon and The Orient House Ensemble wake the senses with the album "The Tide Has Changed". On the opening track I expected Liza Minnelli to appear working up a
rendition of "Cabaret". But this cabaret feeling is short lived as the band launches into the saxophone-lead titular track. And Atzmon's saxophone, like so many saxophones these days, raises John Coltrane's
spirit from the dead. This shouldn't surprise anyone since Coltrane delved into the Far East exotic even performing Arabic modes on his horn and the UK-based OHE marries Middle Eastern music with
American-style jazz.
"The Tide Has Changed" reminds me of saxophone Anat Cohen's work, she also combines Coltrane-esque saxophone with Jewish musical motifs and tosses in Afro-Latin jazz. I'm not sure what to call this musical mosaic, but let me coin the phrase, "world jazz". OHE combines sax, clarinet, accordion with piano, xylophone, electric piano (Frank Harrison), double-bass (Yaron Stavi), and kit drum (Eddie Hick). Guest vocalist Tali Atzman brings her sensual voice to several tracks.
Unfortunately, I don't have enough information on this ensemble in the form or press or liner notes to delve too far into this recording. I find it versatile and diverse allowing the many moods of these musicians to come into play. One moment the musicians engage in a circus-style romp, and then the next moment, the pace slows down considerably as the musicians launch into ethereal jazz. And the slower tracks are the ones that grab my heart. "And So Have We" and the jazzy rendition of Ravel's "Bolero" ("Bolero at Sunrise") offer a nice respite. Since Ravel endorsed American jazz during his time, I wonder if he'd feel flattered to hear this slow and dreamy version of his infamous work.
The album ends like it begins, on a frolic, "We Laugh". The crossover recording shows off each of the musician's skills, but mostly it highlights Atzmon's talent as a player, composer, and arranger. The reed player brings the world to your doorstep. And remember the words, "Life is a cabaret, my friend." Certainly it applies here.
Patricia Herlevi hosts the healing music blog The Whole Music Experience and has contributed to World Music Central since 2003. She also writes novels and short fiction.
Buy the album:
Author:
PatriciaHerlevi
Patricia Herlevi is a former music journalist turned music researcher. She is especially interested in raising music consciousness. She is looking for an agent and publisher for her book Whole Music (Soul Food for the Mind Body Spirit). She founded and hosts the blog
The Whole Music Experience and has contributed to World Music Central since 2003.