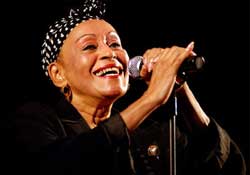 Pinar del Río, Cuba – The famous Buena Vista Social Club will visit Colombia in the first part of a broad program of performances that includes tours of several continents.
Band director Jesus Ramos told Prensa Latina that after the performances in Colombia the group will offer concerts in the Dominican Republic.
February will kick off with performances in Santo Domingo followed by the United Kingdom in March and April. Winner of a Latin Grammy in the category of traditional music, the group will also visit the United States.
"We will be on tour all year," announced trombonist and leader of the group with a repertoire that includes sons, boleros, danzones and other famous Cuban genre.
"We perform Cuban music that has its purist roots; that is our main contribution, we play the cha cha cha as Enrique Jorrin conceived it, the danzon as composed by Gonzalo Rubalcaba," he pointed out.
The group, considered a real artistic success, is a window through which Cuba and its rhythms can be enjoyed. To guarantee continuity of the project, he explained, young musicians have been incorporated such as the pianist Rolando Luna, trumpeter Luis Manuel (guajirito) Mirabal and Pedro Pablo Gutierrez on bass. "All play their instruments with a dignified spirit," he said.
"Our success is due to the fact that we play good music," explained Buena Vista diva, Omara Portuondo, awarded a Latin Grammy for the Best Album of Tropical Contemporary music.
"After a decade of work we continue harvesting applause with our orchestra in the most diverse scenarios; the people dance, are moved, even those who don´t speak our language," said the singer before beginning a concert in this province.
"Buena Vista Social Club will continue alive because we drink from the fountain of the essences of genres and sounds that distinguish the island and those that will last forever," Ramos declared.
Source: Prensa Latina
Buy the Buena Vista Social Club recordings:
Author:
World Music Central News Department
World music news from the editors at World Music Central