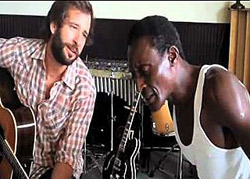 Five years after producing Sierra Leone's Refugee All Stars' debut album, Canadian singer-songwriter recruits the band to record his new single titled Iñez.
In 2002, Chris Velan accompanied college friends and first-time filmmakers Banker White and Zach Niles to West Africa. Their goal was to make a documentary film that explored a humanitarian crisis from the perspective of a musician.
They met the original members of Sierra Leone's Refugee All Stars in a remote refugee camp in Guinea and the ensuing, critically-acclaimed film called, "Sierra Leone's Refugee All Stars," shot over three years, tells their inspiring story of struggle and survival through music in a time of horrific war.
Since the film's release in 2005, the band has returned home to Freetown and gone on to become a celebrated international touring act playing at Central Park Summerstage, Bonnaroo Festival, Montreal Jazz Fest, Fuji Rock Festival, WOMAD and opening for rock legends Aerosmith. The band has also released two acclaimed albums "Living Like a Refugee" (-Anti) produced by Chris Velan and "Rise & Shine" (Cumbancha) recorded in New Orleans and produced by Steve Berlin of Los Lobos.
Velan, a touring and recording artist based in Montreal, produced the All Stars debut record, released in 2006. Velan has since pursued his own music career, touring continually across North America and recording three solo albums. His latest and fourth release, 'Fables for Fighters' produced by Iestyn Polson (David Gray) is due this Spring 2011 on Brooklyn's NewSong Recordings label.
In August 2010, Velan took time out of recording 'Fables For Fighters' to reunite with Niles, White and The All Stars in a Boston studio to record one of Velan's new songs, "Iñez." A free mp3 download, along with an accompanying YouTube video shot on location in the recording studio by filmmaker Banker White, is available at inez.chrisvelan.com.
Given the musical origins and inspiration for the song, it was quite appropriate that Velan and The All Stars reunited to record this particular song. Explains Velan: "The All Stars turned me onto Sierra Leonean Gumbe-style music. When I wrote 'Iñez' while I was in LA, it came to me with those rhythms in my head. The original guitar part was actually taught to me by the band. So I couldn't imagine anyone else to back me on the track. Luckily, the band was in the US at the time. Had they not, the song would probably never have been recorded. But I'm so happy that it was.
I owe a lot to The All Stars. The experience of making the documentary in West Africa was a transformative one for me and it re-connected me with my own musical path. It was a fitting song for us to reunite on – a story of a Honduran woman who, against all odds, makes it illegally into the US only to come face to face with the contradictions of the American Dream. Who better to play it with me than a group of Sierra Leoneans who themselves had to flee their country's war to scrape a living in a hostile foreign land?"
The All Stars band leader Reuben Koroma remembers meeting Velan, Niles and White this way: "In the refugee camp we had nothing to do, so we just did what came to us naturally – we made music. We were playing for ourselves and our fellow refugees, but we never expected our music to go very far. When they came and said they wanted to hear our music we were so surprised! People always came with cameras, but they were never interested really in our music. We felt immediate connection with them because they loved music – and they loved our music!"
Koroma still lists Velan as one of his big influences. "When we first met Chris in the refugee camps – he would jam with us every night and always made our music sound so much sweeter. It doesn't matter what style he can always find the way to raise up the music and that's why we always call him our Musical Brother. We were so happy to have him produce our first record. And now we feel fortunate to be able to give back in some small way by playing on this song with our musical brother."
While the song and video are available as a free mp3 download – Velan and The All Stars have also provided a 'donate' link on the download site, where all proceeds above recording costs will go to "WeOwnTV".
WeOwnTV – started by Niles and White along with The All Stars' youngest member Black Nature – is a collaborative media education project for disenfranchised youth and young adults in Sierra Leone that promotes self-expression as a way to explore our shared humanity and build a foundation for the future.
Focusing on community engagement, the curriculum balances intensive film production and computer skills training with classes on storytelling. Ongoing mentorship along with technical assistance, multi-channel distribution and the promotion of finished work enables young adults to share their stories and ideas with the world.
"Underlying the song is an imploring wish for greater tolerance, understanding and empathy towards whomever we view as 'others,' " states Velan. "These moral imperatives – grounded in our shared humanity and fragility – were what I took away from my experience filming The All Stars' story in Guinea and Sierra Leone."
Chris Velan recordings available:
Sierra Leone's Refugee All Stars recordings available:
Author:
World Music Central News Department
World music news from the editors at World Music Central