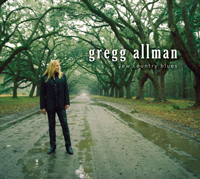 Gregg Allman
Low Country Blues (Rounder, 2011)
With a musical career that includes a stunning bevy of recordings, a founding membership in one of the '70s premier rock bands The Allman Brothers Band, countless accolades including a place in the Rock and Roll Hall of Fame and a rocky road of personal problems and health issues, Gregg Allman is back. Wailing out a series of blues numbers like "Little By Little" and "Devil Got My Woman," Mr. Allman pulls out all the stops on Low Country Blues and whips up a sound that's downright sweet and fine.
Battling Hepatitis C and waiting for a liver transplant during the recording, Low Country Blues isn't the music of a man pretending to look into the abyss but a man's who already seen it and is willing to ball up his fist and take one more whack at the dark.
If there's a familiar quality to the sound of Low Country Blues that would be producer T. Bone Burnett's hand. Producing stunning recordings like Alison Krauss and Robert Plant's Raising Sand and Willie Nelson's Country Music, Mr. Burnett has a knack for producing a clean, sleek sound that showcases the vocals without losing any of the musical landscape, a sort of retro view in this day and age of overproducing to the point of muddiness.
The additions of guitarist Doyle Bramhall, pianist Mac "Dr. John" Rebennack, bassist Dennis Crouch and drummer Jay Bellerose certainly ratchets up the goodness factor on Low Country Blues, but it's Mr. Allman's vocals that turn what could have been an ordinary blues songbook recording into something extraordinary. Part blues shouter's sorrow and part hard road troubadour's wail turn the vocals to a sweet, sweet balm.
Leaping headlong into Sleepy John Estes's "Floating Bridge," Low Country Blues travels the fine road with stops at "Little By Little" by Junior Wells and Muddy Waters's "I Can't Be Satisfied." The darkly dishy "Devil Got My Woman" and the swinging version of B.B. King's "Please Accept My Love" are stand out tracks, but "Tears, Tears, Tears" is particularly good with its bluesy piano lines and a sassy brass backing. The meaty percussion and fleshy organ lines make "Rolling Stone" magical, but "My Love is Your Love" and "Checking on My Baby" will make you weep they are so good.
Low Country Blues spills over with a savage stylishness that will have listeners begging for more.
Buy the album:
Author:
TJ Nelson
TJ Nelson is a regular CD reviewer and editor at World Music Central. She is also a fiction writer. Check out her latest book, Chasing Athena's Shadow.
Set in Pineboro, North Carolina, Chasing Athena's Shadow follows the adventures of Grace, an adult literacy teacher, as she seeks to solve a long forgotten family mystery. Her charmingly dysfunctional family is of little help in her quest. Along with her best friends, an attractive Mexican teacher and an amiable gay chef, Grace must find the one fading memory that holds the key to why Grace's great-grandmother, Athena, shot her husband on the courthouse steps in 1931.
Traversing the line between the Old South and New South, Grace will have to dig into the past to uncover Athena's true crime.