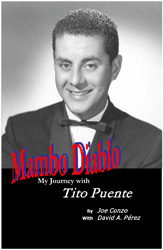 Mambo Diablo – My Journey With Tito Puente by Joe Conzo, with David A. Pérez. AuthorHouse, 2010. ISBN-10: 1452082812, ISBN-13: 978-1452082813.
Tito Puente was the legendary bandleader, timbales player, vibe player, composer, and Latin musician like no other, who has been an inspiration to all Latin percussionist and bandleaders. Joe Conzo long time friend of the late Tito Puente gives and outstanding view in "Mambo Diablo" My Journey with Tito Puente, a book regarding the life and times of Tito Puente.
From bandleader Perez Prado of mambo fame to non-comparable Cuban singer Beny More, legendary trumpeter Dizzy Gillespie and the life and moments of New York in the 1940's with the invention of BeBop, the Bird Parker and others,the book provides intimate details of the life of Tito Puente.

I most highly recommend this book if you are interested in Latin Jazz, Latin Music, Salsa or the History of Latin Music. Mr. Conzo relays in detail historic and legendary information, with specific and actual information regarding Latin music history in the making.
Being a Latin Jazz Bandleader and timbales player myself for over 40 years, I had the opportunity to be around Tito Puente on several occasions. Tito was always a great, intelligent and grand individual to me always answering my question about Latin music or timbales because there were no lessons in those days; you just need to stand in front of the bandstand and watch. Tito Puente is greatly admired and missed by all the musicians and fans that actually got to see him perform or that were around him.
In speaking to Joe Conzo, I asked him what inspired him to write the book on Tito Puente. "I was told by many people to write a book about Tito, and I decided to get off my butt and write the book," said Joe. " I told Tito when he was alive that I was going to write a book about him, and Tito would tell me, oh your going to make a million dollars off me and my book, I know it!, jokingly."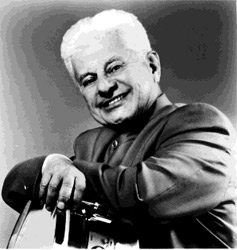 I asked Joe Conzo, how many years he knew Tito Puente. "I know Tito Puente from 1957, he was a genius and took Latin music all over the world," he said. "My story is exactly what it says, my life with Tito Puente, what I shared with Tito. I was his best friend and I did not sugarcoat the book or anything. Tito did not trust many people, but he did trust me as a friend."
"There is going to be a U.S. Postal Stamp for Tito Puente," Joe continued." Imagine, the first Latin bandleader and first Puerto Rican to be honored. Not Perez Prado or Xavier Cugat, no one else has been given that kind of honor, but Tito is going to get it, and he deserves it."
Asking Joe Conzo about his next venture, Joe mentioned "Well I would like to see how this book goes first; I have enough material to write a second book. The reviews have been great."
I told Joe that maybe a movie could be made from his book. "It has it has been mentioned to me, that is an idea," said Joe.
Most books in the past about Tito Puente have been inaccurate. In this case, per the facts and one individual that worked and knew the master timbalero/bandleader Tito Puente stated that this book is on the dime for statements and facts.
Thank you Mr. Conzo for your insight, remarks, book review and your interview time and especially the great book about your friend, the greatest Latin bandleader that will ever be, Tito Puente, I am looking forward to your the next book.
Buy /a>[/caption]Mambo Diablo – My Journey With Tito Puente
Author:
Les Moncada
Les Moncada is a Latin Jazz orchestra leader and conguero for over 40 years. He was born in Oakland, California and currently resides in Sacramento, California.
Les Moncada is a student of conga and batá master Francisco Aguabella, a friend of the late promoter Bill Graham, vibraphonist Cal Tjader, Latin Jazz band leader Pete Escovedo, conguero Mongo Santamaria and many, many more.
He has been writing for many years for World Music Central.
Les has several Facebook sites: Timbales and Congas Bongo Bata & bells; Conguero, Professional Conguero & their Instrument; Bongocero, Professional Bongocero their Instrument; Alambres Dulces, Tres, Cuatro & Laud