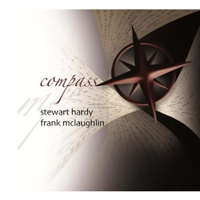 Stewart Hardy and Frank McLaughlin
Compass (Claytara Records, 2010) & Root2 (Claytara Records, 2010)
British musicians Stewart Hardy and Frank McLaughlin have released two recordings that showcase their talent as instrumentalists and composers. Compass features the contemporary side of the duo. The album includes superb instrumental pieces based on Celtic and other world traditions, as well as two songs. Even though Hardy and McLaughlin have guest musicians, most of the music is performed by the duo.
Stewart Hardy plays fiddles and violas. Frank McLaughlin plays guitars and Scottish small pipes. Both musicians add bass and drum sounds through electronic programming, creating a contemporary Celtic band feel. The two met at a Scottish music festival in Bavaria.
Guests include Julie-Ann Kay on vocals and clarsach (traditional celtic harp); Benny Graham on vocals; Gillian MacDonald on backing vocals, guitar and whistles; Desi Wilkinson on flute; Angus Lyon on accordion; and Penny Callow on cello.

The majority of the material is new compositions inspired by Scottish and Northumberland folk music, although Hardy and McLaughlin also incorporate the folk classic 'Wayfaring Stranger,' Gypsy fiddle, bluegrass, an occasional Middle Eastern melody and the beautiful 'Agnus Dei,' inspired by the Latin mass and early Christian music.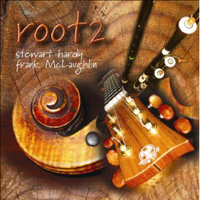 Roots 2 is a duo affair, focusing on fiddle, guitar and small pipes. The album contains a mix of original and traditional instrumental tunes.
Fiddler Stewart Hardy is a musician from Northumberland, England. For fifteen years his career was based around performance, touring with many bands all over the world playing traditional folk, pop, rock, jazz, country and western swing music, while also working as a session musician, both on stage and in the recording studio.
Since 2003, Stewarte has been a core tutor on the Folk Degree at Newcastle University and has been involved with numerous national and international projects. In 2001 he released his solo CD, Tod's Assembly, which featured the playing of current musical partner, Frank McLaughlin. Tod's Assembly contains traditional and original pieces, arranged for fiddle, clarsach, guitar and cello.
2009 saw the publication of Stewart's first book, Secrets of Jigs – Tips and Technique for Fiddle.
Frank McLaughlin is a Scottish guitarist and piper (Scottish smallpipes). In 1999 he released Out of the wood with Scottish traditional singer Gillian MacDonald. He also performs with The Mick West Band and Stewart Hardy.
McLaughlin runs workshops for guitar across the UK, covering techniques used in playing traditional music and accompaniment for song.
McLaughlin and Hardy work together as a writing and production team, including the recording and filming for the ITV drama series Distant Shores (Yorkshire television).
Compass and Root2 are two extraordinary albums by one of the most interesting duos in the British Celtic music scene.
Buy the albums:
Author:
World Music Central News Department
World music news from the editors at World Music Central