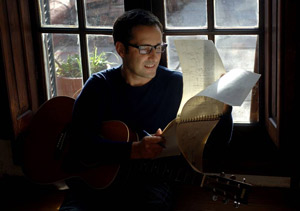 Uruguayan Jorge Drexler, one of the most important voices in Latin American music, willbe performing at Fillmore Miami Beach on Saturday January 29th, 2011 at 8 PM.
The Madrid-based singer and composer revels in the poetry of his lyrics, and his unique style of fusing Latin American folkloric rhythms with modern electronic samplers and jazz harmonies.
Jorge Drexler's new work, Amar la Trama (Loving the Story) moves his work deeper into the organic realm. He brings his new show, which features his 4-piece band, to Miami Beach for a much-anticipated live concert at the Fillmore Miami Beach on Saturday, January 29. The concert is presented by The Rhythm Foundation, who produced Drexler's sold-out Florida debut in 2005.

Recordings available:
In North America: Amar La Trama, Eco, 12 Segundos De Oscuridad, Edad Del Cielo: Sus Grandes Canciones, Cara B, Sea, Frontera, Primeras Grabaciones: 1992-1994 (La Luz Que Sabe Robar + Radar)
In Europe: Amar La Trama, Eco, 12 Segundos De Oscuridad, Frontera, Sus Primeras Grabaciones 1992, Cara B
Saturday January 29th, 8PM
Fillmore Miami Beach
at Jackie Gleason Theater, 1700 Washington Avenue, Miami Beach
BUY TICKETS NOW: $33.50 – $68.50 (plus venue fees) online, or call (800) 745-3000, or visit the Fillmore box office.
Rhythm Foundation members, call (305) 672-5202 for direct ticketing, no fees.
Author:
World Music Central News Department
World music news from the editors at World Music Central