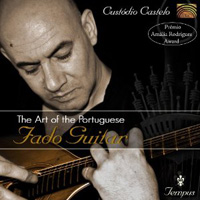 Renowned Portuguese guitarist Custódio Castelo has released an album titled The Art of Portuguese Fado Guitar – Tempus (ARC Music). Winner of the 2010 Amália Rodrigues Foundation award, 'Best Instrumentalist',Custódio Castelo is perhaps best known as the regular guitarist for Cristina Branco, playing on her albums and accompanying her on tour. He has also performed with and featured on recordings by such fado luminaries as Jorge Fernando, Mariza, Ana Moura, Raquel Tavares and Argentina Santos, among others.
In the 1990s Castelo was given the great honor of accompanying the "Queen of Fado", Amália
Rodrigues, during her final concerts in the United States. With "Tempus" Castelo presents 17 beautiful, original compositions for the Portuguese guitar, all instrumental, with the exception of the song "Prece" featuring the upand-coming fadista Cristina Maria and based on a poem by the Portuguese poet Pedro Homem de Mello.

The Art of Portuguese Fado Guitar – Tempus features an instrumental piece entitled "Homehagem a Paredes", a tribute to the acknowledged master of the Portuguese guitar, Carlos Paredes, who passed away in 2004: "The moment I knew that the master was ill, I dedicated to him my pain", says Castelo.
This album was recorded in 2004, at a time when Castelo too feared an untimely end to his career due to health problems. Thinking he may never be able to play again, Castelo entered the studio and recorded these seventeen tracks.
"Tempus", then, can be seen as the intended life's-work of this generation's most talented exponent of the guitarraportuguesa.
Thankfully Castelo's health recovered fully and he continues to make music. In December 2010 Castelo was awarded the prestigious Award of the Amália Rodrigues Foundation for 'Best Instrumentalist', an accolade he received with great humility as it was the music of Amália Rodrigues which inspired him to first pick up the guitarra portuguesa as a teenager.
Buy the album:
Author:
World Music Central News Department
World music news from the editors at World Music Central