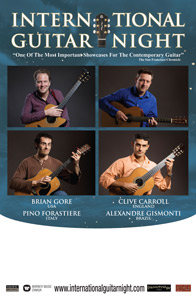 On Wednesday, January 12, Philadelphia's Crossroads Music presents International Guitar Night with Clive Carroll (UK), Alexandre Gismonti (Brazil), Pino Forastiere (Italy) and Brian Gore (United States).
The program will take place at 7:30 pm at 801 South 48th Street in West Philadelphia. Tickets are 10-30 and are available both at the concert and in advance from the Crossroads Music website. A preconcert master class with the artists will take place at 7:30 on Tuesday, January 11.
International Guitar Night, North America's premier mobile guitar festival, has featured some of the best performing guitar composers from around the world since 1995. Each tour, IGN founder Brian Gore invites a new cast of guitar luminaries to join him for special evenings of solos, duets and quartets that highlight the virtuosity and diversity within the world of acoustic guitar.

Since the beginning, audiences have cherished the friendly informal ambiance of the performances. Participants have relished the chance IGN affords to express reverence for one another, and to collaborate rather than compete.
For the January/February 2011 U.S. tour, Brian welcomes the British fingerstylist Clive Carroll; Alexandre Gismonti, a composer and classical guitarist who draws on both Brazilian and international musical traditions; and the virtuoso acoustic experimentalist Pino Forastiere, from Italy.
Clive Carroll grew up playing with his family's traditional Irish band and studied classical guitar and composition at Trinity College of Music, London. With the encouragement of John Renbourn, he released his first solo album in 1999, and has continued to tour and record as a solo musician and with artists like Renbourn, Chris Newman & Maire niChathasaigh, Tommy Emmanuel, and Bill Wyman's Rhythm Kings.
Alexandre Gismonti began his guitar career performing with his father, the great Brazilian composer, guitarist, and pianist Egberto Gismonti, and has subsequently developed his own style drawing from Brazilian musical genres like choro, valsa, and maxixe, as well as flamenco and jazz. He has represented Brazil at numerous international festivals in Latin America and Europe, performs as a solo artist and with his own trio, and continues to perform with his father as well.
Pino Forastiere's music employs a dazzling blend of slapping, tapping, strumming, altered tunings, and harmonics combined with classical phrasing and a focus on distinct and addictive melodies. He has often been compared to Michael Hedges's, but his classical phrasing and melodic emphasis derives from his training as a classical guitarist at Rome's Santa Cecilia Conservatory.
Forastiere has studied composition and chamber music, performed classical and original repertoire with small ensembles and full orchestras, and collaborated with jazz, experimental, electronic and pop projects.
San Francisco "guitar poet" Brian Gore is gaining a reputation as one of the most interesting and influential performers of the new generation" in fingerstyle guitar. His lyrical, understated compositions integrate classical and percussive techniques.
Crossroads Music
48th and Baltimore Ave. (in Calvary United Methodist Church)
crossroadsconcerts.org or 215-729-1028
Author:
World Music Central News Department
World music news from the editors at World Music Central