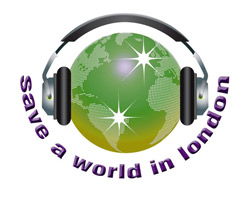 London entertainment publication Time Out, the Musicians Union, Member of Parliament (MP) Andy Slaughter, and renowned musicians Jah Wobble and Justin Adams are the latest to throw their weight behind a campaign to save BBC Radio London's only world music program A World in London (AWIL).
Hosted by DJ Ritu, the two hour weekly program showcasing multi-cultural London has been axed and will be replaced from this Saturday with a chat show. Station Controller David Robey is transforming BBC Radio London into a talk radio (referred to as speech-based in the U.K.) station, but the decision to axe AWIL has prompted an angry backlash from the show's devoted listeners who claim the BBC is failing London's ethnic communities and reneging on its commitment to diversity and extending choice. They want the show to be reinstated and question why the BBC is willing to spend more money on a replacement show in a time of cutbacks.

AWIL was BBC Radio London's only world music slot, as 90% of the station's current output is talk based. Its last show was broadcast on Saturday and the sudden decision to axe the capital's "most inclusive" radio show has shocked and incensed lovers of global music and culture and London's ethnic citizens, prompting a huge outcry and a campaign to save AWIL.
A Facebook page launched by fans just before Christmas has generated close on 1000 signatories and dozens of heartfelt comments about the importance of the show, while many have bombarded the BBC demanding the show is reinstated. London based artists have pledged to stage a musical protest and various notables have joined the campaign to save the show described as a "unique treasure that epitomises the best of multi-cultural London".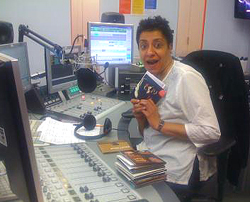 Time Out told its readers about the BBC decision in an article headlined "The end of the world" and has called on its readers to join the Facebook Save AWIL group. Rebecca Taylor, a major fan of the show and the magazine's News Editor, said the BBC's response "didn't explain why they want to axe the programme other than seeming to suggest they didn't want as much music…but [AWIL] was so much more than music and there really is nothing similar around."
Hammersmith MP Andy Slaughter called the decision, "Another example of the dumbing down of the BBC, which seems keen to promote more bland shows", while artist Jah Wobble said, "The decision to end Ritu's show is clearly ill conceived, unjust and unpopular. In my opinion, it runs contrary to the mandate laid down to BBC local radio stations. I would like to see the decision rescinded immediately".
The Musicians Union (MU) Assistant General Secretary Horace Trubridge criticised the BBC for axing AWIL and another specialist music show Folkwaves, broadcast in Derby, given there was "no consultation and very little warning."
The MU has asked the BBC to reconsider its decision, claiming, "The loss of these programmes will be disastrous for musicians, who will lose out on airplay and royalties, as well as publicity for upcoming gigs."
During the past four years, AWIL has lived up to its billing of 'music from all 4 corners of the world', featuring songs and artists from over 50 countries. Alongside championing unknown talent and music, renowned disc-jockey and BBC broadcaster Ritu has also pulled in some of the biggest music names on the planet, including A R Rahman (India), Angelique Kidjo (Benin), Omara Portuondo (Cuba), Tinariwen (Mali), and Tarkan (Turkey), picking up listeners across the country and abroad.
AWIL's listener figures have grown continuously making the show the station's second most listened to music program after Jazzie B, out-performing both Gary Crowley and Tony Blackburn. When Ritu broadcast her exclusive two-part interview with Turkish star Tarkan, AWIL became the most listened to online BBC London show for three weeks running.
AWIL traces its roots to Charlie Gillett who started a weekly world music program on BBC London back in 1995. DJ Ritu inherited the slot from the legendary presenter in 2006 when he retired through ill-health. Renamed A World In London to reflect its focus on the ethnic and cultural diversity of the city, the show has become a much-loved institution and is regarded as the BBC's most inclusive program. Those involved in the capital's multicultural activities view AWIL as a meeting point, notice-board and a key catalyst in unifying London's many communities.
"The switch from music to talk radio is a misguided and backward measure, specially at a time when there is a saturation of talking heads in public and commercial radio and TV," said World Music Central's Angel Romero.
About DJ Ritu:
DJ, broadcaster, club promoter and A&R, East London born DJ Ritu began her career as a Pop music DJ in 1986, before moving into global beats at club ASIA in Islington. Gaining in reputation as a 'bhangra expert' she began touring internationally in 1991, often the first DJ to introduce 'world' sounds in many countries, while guesting at legendary global music clubs in the UK such as The Mambo Inn.
In 1994, she co-founded Outcaste Records, signing Nitin Sawhney and Badmarsh (& Shri), as well as creating Club Outcaste, which was frequented by Bjork, Goldie, & Talvin Singh. She also became resident DJ at the UK's first ever weekly bhangra fusion night, Bombay Jungle.
This long-time club pioneer continues to set new trends through her regular London club nights, including leading Bollywood night Kuch Kuch (10 yrs) and the Middle Eastern flavored Hoppa (7 yrs). Artistic director of two bands, The Asian Equation and Sister India, Ritu has performed in over 30 countries, from Istanbul to Cape Town, Cairo to Riga and at major venues and events such as the Royal Festival Hall, the Big Chill, Sfinks, and WOMAD.
In 2006, she took over Charlie Gillett's weekly world music show on BBC London and for the past 19 years, she has broadcast music programs for the BBC that are syndicated in Germany, Turkey, & online. DJ Ritu is the sole UK representative on the influential European World Music Chart Panel and also writes and compiles albums for The Rough Guides.
For more information about Ritu, AWIL and the campaign to save it, visit:
1. djritu.com
2. Save DJ Ritu's A World in London show on BBC London
3. http://saveawil.blogspot.com – includes the official response from the BBC
Author:
World Music Central News Department
World music news from the editors at World Music Central