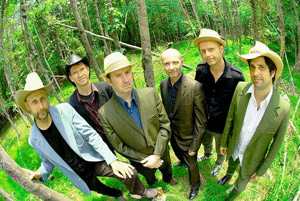 Timed to coincide with the APAP conference, Barbès Records takes part of its roster across the chilly waters of the East River in new York city on Saturday December 8th to showcase some of its best talent.
For the past eight years, the Brooklyn club and related label have become synonymous with adventurous eclecticism. On any typical night Barbès' backroom will showcase a classical string quartet, Carpathian singers, an avant-garde theremin player, Brazilian Forro, Balkan Brass, a Manding guitarist or Peruvian surf music.
This year, Barbès will attempt to take Manhattan with a couple of Americans singing French swing classics (Les Chauds Lapins), followed by the work of a French chanson icon sung in English (Bad Reputation), American Blues filtered through a giant global prism (Hazmat Modine), Peruvian Chicha played a Franco-Venezuelan- American crew (Chicha Libre) and a tribute to Qawwali great Nusrat Fateh Ali Khan by a typical Brooklyn collective (Brooklyn Qawwali Party). Global music made local.

Most bands already have an extensive international career and have individually toured in Europe, Asia and South America and have been featured on World Music Central, NPR, PBS, the New York Times and more.
Recordings available:
Chicha Libre:
Hazmat Modine
Les Chauds Lapins
Bad Reputation
Admission is free with the APAP badge.
Barbès Takes Manhattan
Saturday December 8th.
Doors open at 6:30pm
Admission $10
Free with APAP badges
Drom is located at 85 Ave. A in Manhattan
(212) 777-1157
http://www.dromnyc.com/
OTHER BARBES RECORDS ARTISTS AT APAP
JOE'S PUB
Globalfest Alumni Thursday 01/06.
9:30pm – Chicha Libr e – Psychedelic Cumbias.
92Y TRIBECA
Here Comes Trouble Showcase
Friday 01/07 8:00pm
8:00pm. Sanda Weigl Gypsy Romanian songs
11:00pm. Very Be Careful – Vallenato from Los Angeles
BARBES
Monday 01/10
7:00pm – Jose Conde – Cuban son & Funk
9:30pm – Chicha Libre – Psychedelic Cumbia
Author:
World Music Central News Department
World music news from the editors at World Music Central