Ballaké Sissoko and Vincent Ségal
Chamber Music (Six Degrees Records 657036117129, 2011)
At first glance Malian kora player Ballaké Sissoko and French cellist Vincent Ségal seem an unlikely pairing, but the January 11th release of their collaborative recording Chamber Music on the Six Degrees Records label proves the pairing a resounding success. Sublimely introspective and slyly intricate, Chamber Music explores the mellower, more meditative, riches of African music. Blending African and European musical traditions, Mr. Sissoko and Mr. Ségal lure the listener into a elaborate soundscape made out of equal measures of richly worked compositions and stunning virtuosity.

Son of Jelimady Sissoko, Ballaké Sissoko is an inheritor to Mali's djeli tradition of musical historian, praise singer and bard. Taking up a position in the Ensemble Instrumental National at 14, Mr. Sissoko has made a name for himself as a master of the 21-string Manding kora.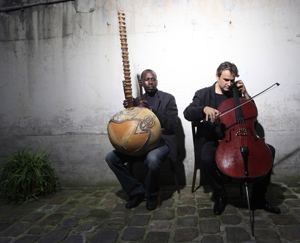 Collaborations with the likes of Taj Mahal, the Italian composer Ludovico Einaudi and Toumani Diabate has earned Mr. Sissoko much deserved international attention, as well as a recording career that includes Deli, Ballake: Kora Music from Mali, Tomora and 3 Ma.
With equally impressive credentials, Vincent Ségal earned his chops with the Orchestra Nationale de France. Not content within the strictures of the classical genre, Mr. Ségal has stepped out of the ordinary with his electric cello with the trip-hop project Burncello and worked with the likes of Cesaria Evora, Sting and Blackalicious.
On how the pair found common ground for their work on Chamber Music Mr. Sissoko explains, "It was important to get to know each other musically. For quite some time we got together at Vincent's home whenever I was in Paris. We built our work together, step by step. Today, when we play, we understand each other without saying a word: One look is enough."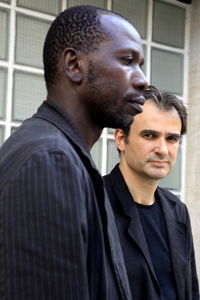 Similarly, Mr. Ségal explains the collaboration this way, "Ballaké comes from African classical music, in a way. It's not like a meeting when you try to do a fusion from different styles. I knew more about African pop music, but it wasn't about finding grooves or the right feeling. We just learned to play together without saying anything."
It is almost impossible to resist the charm of Chamber Music from the opening strains of the title track. Elegantly worked kora flows along the mournful slide of cello to create a sound that is potent and captivating. Delving further into Chamber Music's riches listeners will be captured by the jazzy elements that color the track "Oscarine" or the ascending and descending kora cascades of "Houdesti" or the Celtic and French influences found on "Histoire de Molly."
The brightly worked "Ma-Ma" will certainly delight fans, as will the quiet loveliness of "Halinkata Djoubé." Other gems include the meditative revolving sound of "Future" and the stunning "Regret – A Kader Barry," a tribute song to late singer Kader Berry sung by the Ivorian singer Awa Sangho.
As unlikely as the pair might seem on the surface, Chamber Music exudes the best of both of these musicians in one remarkable collaboration.
Buy the album:
Author:
TJ Nelson
TJ Nelson is a regular CD reviewer and editor at World Music Central. She is also a fiction writer. Check out her latest book, Chasing Athena's Shadow.
Set in Pineboro, North Carolina, Chasing Athena's Shadow follows the adventures of Grace, an adult literacy teacher, as she seeks to solve a long forgotten family mystery. Her charmingly dysfunctional family is of little help in her quest. Along with her best friends, an attractive Mexican teacher and an amiable gay chef, Grace must find the one fading memory that holds the key to why Grace's great-grandmother, Athena, shot her husband on the courthouse steps in 1931.
Traversing the line between the Old South and New South, Grace will have to dig into the past to uncover Athena's true crime.