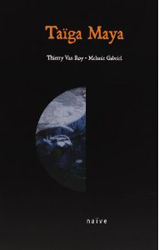 Taïga Maya is a new parallel universe Music Fiction project by composer Thierry Van Roy. The set includes a CD with 12 original songs featuring Melanie Gabriel (Peter Gabriel's daughter), a DVD including 10 video clips and 90 minutes of documentary sequences shot in Yakutia and Mexico, plus a "making of" sequence; a fictional short story, "The Circadian World;" and an extensive 220 page booklet in English and French with many photos.
"My concept of Music-Fiction, based on the principle of alternative history, consists in rewriting History of the past or the future and to imagine a music that could have existed or might exist," says Thierry Van Roy. "Taïga Maya is the traditional music of a future civilization, born from the fortuitous and virtual encounter of the Siberian Yakuts and the Mayans of southern Mexico a few years after the major Earth disaster of 2012.

In a shamanic way, Taïga Maya tries to show the need to be connected to the real essence of life, to Nature, and to open our spirit to the non-ordinary reality that surrounds us. The Circadian world tells the story of a young girl named Taïga Maya and through a narration of the tribulations of her family, demonstrates our total subordination to the rhythms of the cosmos and nature."
The CD contains traditional and original music of the years 2040, from Yakutian and Mayan inspiration. It is 12 acoustic songs from a civilization yet to come. Thierry Van Roy summarizes the story of this civilization: 'On the morning of the 2012 Winter Solstice, an undetected celestial body crashes to Earth. The shock is so violent that the planet tilts a quarter turn on its axis, moving the North Pole to the Equator. A small village in Yakutia (Siberia) wakes up in a torrid heat, under a burning and still sun, fixed forever at the zenith, while in the Southern Hemisphere plunged in permanent darkness, Anton Sakhalin and his Mayan companions flee a frozen Mexico, in search of light.
After 10 years of aimless wandering across a devastated world, the two communities meet at the bottom of the Bering Strait, now dry. That is where, together, they establish a colony where everything needs to be re-invented, even darkness. In this new world without day or night, shadows always fall in the same direction and time unfolds infinitely, always on the same day.
Now we are in 2042: Taïga Maya, the granddaughter of Anton has collected the only remaining archives of the "Circadian World" predating 2012. Finally completed, this large fresco tells a story through music and virtual images, the story of the ancient world of day and night, which will bear her.'
Melanie Gabriel was born in London. She grew up listening to musicians from all around the world. She studied visual arts at college in New York, while tentatively pursuing music. Over time, music became her focus, writing and singing with other musicians. Out of the blue, Thierry Van Roy appeared proposing that she entered the world of Taïga Maya. Melanie couldn't refuse, sensing that it would be an extraordinary experience.
Thierry Van Roy says about himself that he does not really exist. He materialized in 2002 in Yakutia to unveil Taïga Maya to the world, and claims that he will definitely disappear on the 21st of December 2012. There is no single reference about him on the internet, only some links to a musician whose name he has borrowed (with his consent). Thierry Van Roy, who says that, on another plane of reality, his name is also Anton Sakhaline, describes himself as a noospherical being.
Buy the album:
Author:
World Music Central News Department
World music news from the editors at World Music Central