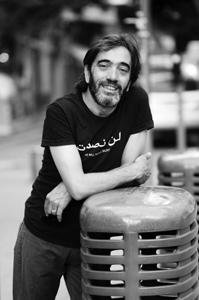 Singer-songwriter Chico Ocaña has a new music video titled "30 metros" from his album "Canciones de Mesa camilla" which was released earlier this year in Spain.
Ocaña's former band, Mártires del Compás, was a seminal band in southern Spain, combining Flamenco, rock, and Andalusian popular music with uncompromising lyrics. Ocaña said this was a new genre called Flamenco Billy.
On "30 metros", Ocaña combines creativity, art, happiness, music, humor, and the harsh reality of everyday living.

Back in 2005, Ocaña said "Politically, socially, we're uncompromising. I don't write from any ideological perspective or belong to any party, but as an artist I write about the things that move me-and I won't silence myself or only write about happy topics. Illegal immigration, terrorism, globalization, these things are part of my world, too. I don't think it's a contradiction to sing about these things alongside songs about love or passion. It's all part of our experience as human beings."
Recordings available: No Papers, Mordiendo El Duende, Flamenco Billy, Sinpapeles Es Conpapeles Son, Prohibido Da El Cante
Next concerts:
Saturday, February 12, 2011. Sala Metrópolis. Córdoba
Wednesday, February 23, 2011. Sala Apolo. Barcelona.
Friday, February 25, 2011. Sala López. Zaragoza.
Author:
World Music Central News Department
World music news from the editors at World Music Central