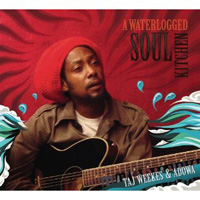 Award winning St. Lucian reggae artist Taj Weekes and his band Adowa have a third release out titled A Waterlogged Soul Kitchen, on Jatta Records. A Waterlogged Soul Kitchen, whose title pays homage to the survivors of Hurricane Katrina, delivers sturdy roots rhythms laced with acoustic strings, bluesy harmonica accents and a deep sax groove.
The debut single, "Rain Rain," laments the delayed and often ineffectual action following the devastation experienced by residents of Louisiana and the neighboring states. Weekes explains, "Though 'Rain Rain' references Katrina, the message goes above and beyond the isolated story of a flood and brings to mind the continuous downpour of human suffering and natural disasters the world over and how quickly we forget."
Other songs recall images of many of the world's recent and ongoing tragic events, from the Gulf of Mexico oil spill in "Drill" to a decade's worth of news headlines in "Anthems of Hope." Jarring overlays of sound introduce a song about Sudan's "Janjaweed" and a deeply humanized tale of war reminds us in "B4 The War" how long and often it's been true that, "someone like me/became my enemy."
Weekes blends elements of acoustic roots rock and afro-folk simplicity, with thought provoking poetry and lyrics. "I write from the heart and I speak about issues that move me. I believe that's what really matters."
A Waterlogged Soul Kitchen, the group's third album, follows the release of Hope and Doubt (2005) and Deidem (2008), which won "Best Reggae Album" at the Just Plain Folks Music Awards and was shortlisted for consideration of a Grammy Award nomination.
View the Music Video for "Rain Rain," filmed on location in St. Lucia.
Author:
World Music Central News Department
World music news from the editors at World Music Central