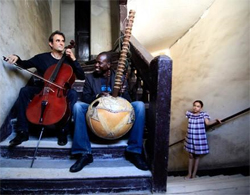 Chamber Music: Ballaké Sissoko & Vincent Ségal will be performing at globalFEST 2011 at New York City's Webster Hall (125 E. 11th St.) on January 9.
Ségal has taken the cello into new realms as a musician with the French trip-hop group Bumcello and in collaborations with Sting and Elvis Costello.
An accomplished Malian kora (West African lute-harp) player, Sissoko has worked with every one from African icons (Toumani Diabate) to blues masters (Taj Mahal) and Italian minimalist composers (Ludovico Einaudi).

Sissoko and Ségal struck up a friendship that blossomed into an elegant, rich acoustic collaboration. The unexpected intertwining of their instruments creates an intimate space for subtle, yet striking sounds flowing from African traditions and European classical roots. It's chamber music for the 21st century.
Festival line-Up
Chamber Music: Ballaké Sissoko & Vincent Segal (U.S. debut)
Creole Choir of Cuba
Diblo Dibala
Kaumakaiwa Kanaka'ole (NYC solo debut)
La-33
Novalima
Orquestra Contemporânea de Olinda
Pedrito Martinez Group
RAM
Red Baraat
Rhythm of Rajasthan
Yoro Ndiaye (U.S. debut)
The one-night festival includes three U.S. debuts and one New York debut. Tickets are $35 if purchased by November 30, $40 thereafter, including at the door. ($35 for members of World Music Institute) www.ticketmaster.com or by phone through World Music Institute box office: 212-545-7536).
globalFEST 2011
Sunday, January 9, 2011 at Webster Hall
125 E 11th St., New York, NY
between 3rd and 4th avenues
Links:
Author:
World Music Central News Department
World music news from the editors at World Music Central