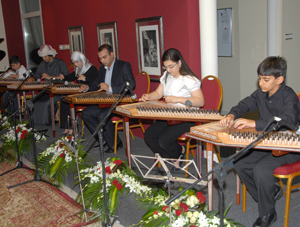 In an outstanding night, students of Bait Al Oud Al Arabi (Arabian lute House) celebrated on Wednesday evening the third anniversary of the house which was launched by the Abu Dhabi Authority for Culture and Heritage (ADACH).
The house is a specialized institution for Arab traditional music where students learn to play on ancient instruments and not only oud, such as qanon and tabla under the supervision of oud master Nasser Shammaa.
In the concert, traditional Arab music lovers filled the hall of the house and enjoyed exceptional two hours of music played by twenty students. The students aged between 7 and 50 played masterpieces composed by great Arab musicians such as Riyadh Sinbati, Abdul Wahab, Sharif Muhiedin, and Haidar and Abdo Dhager. They also played some folk pieces from the Turkish, Egyptian, Yemeni and Khaliji heritage.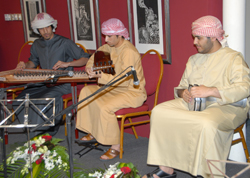 Abdulla Al Ameri, director of culture and arts at ADACH said "We are proud of the achievements of Bait Al Oud in just three years. The house succeeds to gather wonderful musicians from deferent Arab countries under one roof.
The house also became a new bridge between today's people to go back to the beautiful era of Arab authentic music. This is an accomplishment for us as we believe that music plays basic role in building man's personality specifically oud which was invented 2350 years BC.
It was the first instrument that lasted in ancient civilizations in Mesopotamia and Egypt then it was adopted by Iran and Turkey and from there it was introduced to Europe. Oud is the crown jewel of Arab music and orient culture in general."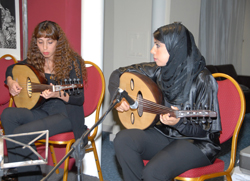 Students at Bait Al Oud study for two years and learn many playing skills, writing music, and music philosophy. After that students are required to play in a concert as a graduate project where is certified as a player.
Bait Al Oud seeks to preserve the spirit and beauty of oriental music and recall the art of improvisation in concerts which is part of the musical culture here.
Author:
World Music Central News Department
World music news from the editors at World Music Central