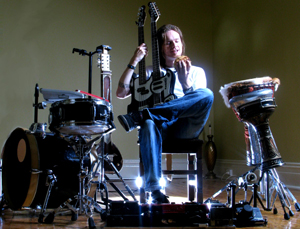 On your latest recording Deep Fried Satisfied you kick out some powerfully meaty blues music, but you've snuck in some rock, Southern rock, Bayou blues, an edge of 70's feel good funk sound and the occasional dash of something that I can only describe as a kick ass electric version of a bluegrass breakdown. How did your sound come about?
I must say that as a kid always and am still today into loud rock, anything from Deep Purple, Creedence Clearwater to guitar rock like Van Halen to Steve Vai, and when I was in school this movie came out which changed everything; this film called Crossroads, as soon as I heard those blues licks from Ry Cooder and Robert Johnson I was hooked.
That movie still gives me goose bumps when I hear some of those beautiful songs. Also, I was doing a small tour of the States when I wrote that album and I had CCR in the CD player the whole trip; it's always been one of those things I've wanted to do, cruise down the highway 81 listening to CCR in the sun.

What genres and musicians were influences on your sound?
When it comes to genres, I think I'm pretty narrow-minded. I pretty much listen to rock; in terms of musicians there are so many, I love the vocals of Chris Cornell, Australian artist Iota, Ani DiFranco is just amazing live to see, I do love the Tea Party, I really dig all the middle eastern scales.
I love the funk of Bootsy Collins. Ry Cooder of course. I get a lot of my influences on mucking around with sounds. Sometimes I'm at home and I'll play with a new overdrive pedal and suddenly a whole song comes out in a minute or maybe a new drum sound can trigger an influence. A lot of the time I write a song as I'm driving on the road; suddenly, I'll get an idea pop in my head and then I'll throw it down on my mobile phone so I don't forget it.
In addition to the twin neck guitar, bass and drums you use on the recording, you also incorporate the sitar and doumbek. What is about the sound of these instruments that enhances your sound?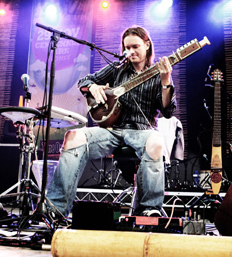 I love the twang that the sitar produces; run it through a little distortion and it just really sings. I use to work in a musical instrument shop that sold almost everything you could think of, and when the boss was out we would just jam on whatever for hours. That was a big influence on my sounds, just the fact that I had all these instruments at hand to tinker with.
I do like to take a traditional instrument and rebuild it to suit my needs. I don't know what it is, but every time I play something new I come up with ideas straight away. I love incorporating roots/blues music on other instruments; I love looking for a new sound. If I didn't have any logistical complications when on the road, I would have so many instruments with me – and amplifiers for that matter.
As a do-it-yourself devotee in building your own house, customizing your touring van and building your own twin neck guitar, "Betty," how many musicians are asking for the plans to replicate your sweet "Betty?" Do you have any plans in the works to make other instruments?
Always…. I've always got a new idea to mock up something new; the hardest thing is to find the time. The amount of people who have asked me to make them a twin neck is insane, but I guess I'm selfish. I really only want them for myself. I've had so many people tell me I should contact a big guitar company to duplicate them, but I have no interest.
I have plans to build a few more Bettys, ones in different tunings, and some fretless ones. I've even thought of doing a twin neck dobro, but its all about time really. If anyone out there has done one, please contact me…….I'd love one.
Have you had any instrument making experiments that have gone wrong?
I must have ruined so many guitars when I was young. As soon as I started to play them, I was also fascinated in what made them work. I never owned a guitar that I haven't pulled apart and done some modification to, whether it was a re-spray, pickup change, new tremolo or whatever; I tried everything.
At home, I have section in my house called the graveyard which is where all my guitars that have had their life up go. I must have about 30 or 40 guitars at home. I have one at home which is half bass, half guitar with a keyboard built in; it looks like something from aliens.
Another favorite of my concoctions is a guitar version of Bootsy Collins' bass; it's got all the flashing lights shaped as a star.
"How Can You Live with Yourself" Video
Often blues musicians and singers talk of a dark place where the blues bubble up out of, usually a place of loneliness or profound sorrow. With the rawness of some of your vocals, especially on "Miss You So," a song about missing your mother, does conjuring up that sound come out of the music or the intent behind the lyrics?
That song is very different from the rest of the album. That's all about the sorrow in the lyrics. But generally it's all about the feeling you get when you play the blues. I've tried playing rock, funk and so on, but playing the roots of blues music is just something else; there's something that just grabs me when I do it – I don't know what.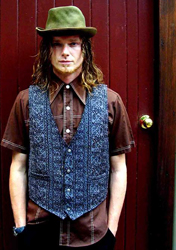 In terms of feeling the blues, I live in Australia and really at the end of the day there's nothing to get the blues about here. We really are a lucky country; the east coast of Oz is just sublime; our health system is fantastic; you can – in my eyes – generally live quite well in this country…… I should get a job at tourism Australia….hmmmm…… naaaah.
You play all the instruments, arranged, engineered and wrote all but one song on Deep Fried Satisfied. Is this out of a sense of self-sufficiency or controlling your own sound? Or perhaps a bit of both?
A bit of both, but mostly doing it the way I want to. To me, music is foremost about pleasing yourself, getting all your angst out or just spelling out how great something has made you feel, and if other people dig it it's a huge bonus.
I've done other projects in the past which other people love but I don't and it just brings you down, but also it's a good learning experience. One of my first bands was a Red Hot Chili Pepper show and I hated it towards the end because it left no time for me to write my own music. But at the same time, it was one of the best things I've ever done because I had to do backing vocals, and before that I never had sung; plus you just learn a lot. There's a place and time for everything I guess.
If you had the opportunity to collaborate with other musicians on a dream project who would you chose and why?
Bootsy Collins 'cause it would be just the best fun; Bernard Purdie 'cause he grooves like no other drummer and he is hilarious; and maybe Robert Johnson, just so I can ask him "did you really sign a deal with the devil and how did you do that lick…."
You've been on tour recently, what's next for you?
We are trying to boost my presence in the USA at the moment. I've just signed to a U.S. label and things are going great guns over there. I really can't wait to get back over there; after all that's where it all came from and there is so much to see and learn. I start on a new album early next year; can't wait for that, it's always exciting.
You sing odes to New York pizza on "Get Me Some" and apple pie and chicken chips gravy buns on the title track "Deep Fried Satisfied." Did you discover any other goodies on your recent tour?
I must say, when I was at National Public Radio one of the guys there took me for real Mexican food for the first time and that was amazing. It tasted completely different to Mexican food here in Oz. I must say the margaritas were good too. But I still went back for some New York style pizza.
What music are you currently listening to?
Australian bands called Dallas Frasca and Chase The Sun. I'm reading a book on Guns and Roses, too, so that's giving them a few spins a bit lately.
Is there a song you are completely addicted to? Perhaps a childhood song or a song from the radio that every time you hear it you sing along or have it running through your head. I had the opportunity to interview the Senegalese musician and singer Baaba Maal and his song was "One Love" by Bob Marley. What's your song?
There are just too many to list; maybe "Fortunate Son" by CCR.
"Get Me Some" Video
Buy the latest album:
Author:
TJ Nelson
TJ Nelson is a regular CD reviewer and editor at World Music Central. She is also a fiction writer. Check out her latest book, Chasing Athena's Shadow.
Set in Pineboro, North Carolina, Chasing Athena's Shadow follows the adventures of Grace, an adult literacy teacher, as she seeks to solve a long forgotten family mystery. Her charmingly dysfunctional family is of little help in her quest. Along with her best friends, an attractive Mexican teacher and an amiable gay chef, Grace must find the one fading memory that holds the key to why Grace's great-grandmother, Athena, shot her husband on the courthouse steps in 1931.
Traversing the line between the Old South and New South, Grace will have to dig into the past to uncover Athena's true crime.